Strong second half lifts Tigers to 79-65 victory over Earlham
January 3, 2005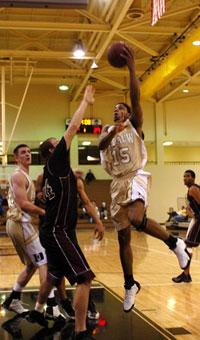 January 3, 2005, Greencastle, Ind. - The host Tigers shot 62 percent from the floor in the second half and 53 percent for the game on the way to a 79-65 victory over Earlham. DePauw improved to 6-5 with the win while the Hustlin' Quakers dropped to 3-8.
Earlham led by as many as nine points at 25-16 after Brandon Miller's layup with 7:46 left in the first half capped a 9-2 run. DePauw took the lead on Austin Brown's layup and Joey Hanger's three-pointer before Earlham to a 34-33 advantage to the intermission on Neil Collins jumper with 1:01 left.
The Quakers opened the second half with layups from Nick Welsh and Evan Ogburn to extend the lead to 38-33, but a jumper by Steve Schott and a pair of layups by Brown put the Tigers back in fron at 39-38.
Miller hit back-to-back buckets to put Earlham back in front at 42-39, but Alex Stewart hit a three and Brown knocked down a jumper to start a 9-0 run that gave the Tigers the lead for good at 48-42 with 13:06 left.
The Quakers got as close a 60-55, but buckets by Todd Capes and Dre Smith pushed the margin back to nine and Earlham would get no closer than six the rest of the way.
Brown led the Tigers with a career-high 18 points as he hit seven of eight from the floor. Schott followed with 14 points and a team-high six rebounds, while Capes and Stewart each added 12. Reid Sakel dished our a game and career-high nine assists in the victory.
Miller paced the Quaker with 20 points and a game-high nine rebounds. Collins added 13 points and Terrel Brown followed with 12.
DePauw turned 16 Earlham turnovers into 14 points and committed just six of its own which the Quakers converted into five points. Stewart recorded a game-high five steals for the Tigers.
The Tigers return to Southern Collegiate Athletic Conference action on Friday, January 7, at 8 p.m. when they host Oglethorpe.
Back