Award-Winning Author Pam Houston to Read from New Book February 13
January 14, 2005
January 14, 2005, Greencastle, Ind. - Award-winning author Pam Houston will come to the campus of DePauw University on Sunday, February 13, to read from her latest book, Sight Hound. The event, which begins at 7:30 p.m. in the auditorium of the Richard E. Peeler Art Center, is free and open to all, and is sponsored by The James and Marilou Kelly Writers Series.
Houston, the director of the creative writing program at the University of California-Davis, previously wrote two collections of linked short stories: Cowboys Are My Weakness, which was the winner of the 1993 Western States Book Award and has been translated into nine languages, and Waltzing the Cat which won the Willa Award for Contemporary Fiction. Her stories have been selected for the Best American Short Stories, the O. Henry Awards, the Pushcart Prize, and the Best American Short Stories of the Century. A collection of essays, A Little More About Me, was published by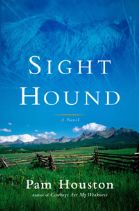 W.W. Norton in the fall of 1999.
In 2001, Houston completed a stage play, Tracking the Pleiades, which was produced by the Creede Repertory Theater. She has also edited a collection of fiction, nonfiction and poetry for Ecco Press called Women on Hunting, and written the text for a book of photographs called Men Before Ten A.M.
Sight Hound, Pam Houston's publisher writes, "is the story of a woman, Rae, and her dog, Dante, a wolfhound who teaches 'his human' that love is stronger than fear." Of the new book, Robert Olen Butler, author of A Good Scent from a Strange Mountain, writes, "Pam Houston is a wonder, moving with grace and humor and insight from the inner voice and soul of human to canine to feline and back again. Sight Hound is not only a narrative tour de force but a brilliant examination of what it means -- in the deepest sense -- to be alive on this planet."
Back