Story Prize Finalist Cathy Day '91 Returns to DePauw February 16
January 22, 2005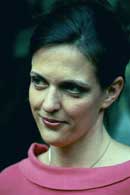 January 22, 2005, Greencastle, Ind. - Cathy Day -- a 1991 DePauw University graduate whose first book, The Circus in Winter , is a finalist for the Story Prize, will return to her alma mater on Wednesday, February 16. Day's appearance, at 7:30 p.m. in the auditorium of the Richard E. Peeler Art Center, is sponsored by the James and Marilou Kelly Writers Series and is free and open to all.
Cathy Day is a native of of Peru, Indiana. New Jersey's Princeton Packet notes, that Day "a tenured professor of literature and writing at the College of New Jersey, started the story cycle in 1991 while an undergraduate at DePauw University in Indiana. Whenever fellow students and professors at DePauw asked Ms. Day where she was from, she would tell them circus stories. 'My favorite thing was to tell how my great-great uncle was killed by an elephant,' she says ... When it came time to select the topic for her senior thesis, one of Ms. Day's professors [DePauw English professor Tom Chiarella] suggested she write about 'that weird circus town you're from.' So for her senior year, she returned to Peru, winter home of the Hagenbeck-Wallace Circus -- as well as Cole Porter's hometown; the Great Porter Circus was partly named for him -- to write an essay. There, the writing major discovered the actual
newspaper clipping about her great-great uncle's death, along with pictures."
Day recalls, "Tom said, 'You're from that weird circus town, right? Why don't you write about that?' ... I don't know if I would have written The Circus in Winter without the encouragement of DePauw faculty members. They taught me to see my hometown with a writer's eyes ... Back in 1991, I remember saying to Tom, 'I have no idea why this interests me so much,' and he said, 'You don't now, but someday you will.' As always, he was right."
Cathy Day's book has received praise in numerous media outlets, including the New York Times, Newsday, MSNBC.com and Sports Illustrated. The Circus in Winter also appeared on several year-end "best of 2004" lists (read more here).
Back