'From Homeless to Harvard': Liz Murray Brings Her Remarkable Story to DePauw for April 6 Ubben Lecture
January 29, 2005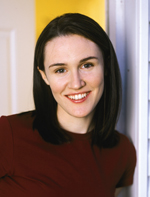 January 29, 2005, Greencastle, Ind. - Liz Murray -- whose amazing life story is the subject of a new book and was documented in a made-for-TV movie -- will deliver The Timothy and Sharon Ubben Lecture at DePauw University on Wednesday, April 6. Born to cocaine-addicted parents, Liz Murray became homeless as a teenager and will describe to a DePauw audience how she went from "Homeless to Harvard: A Remarkable Journey," in a speech that begins at 7:30 p.m. in Kresge Auditorium of the Performing Arts Center. Like all Ubben Lectures, the event is free and open to the public (see complete list by clicking here).
The daughter of cocaine-addicted parents, Liz Murray's life as a child was bitterly grim. There was never food in the house, everything was filthy, drugs were everywhere and the welfare checks were spent before they arrived. By age 15, Murray's mom had died of AIDS and Liz was homeless -- living on the streets, riding the subway all night, and eating from d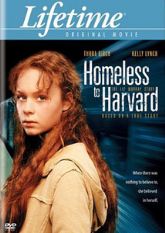 umpsters. Amidst this pain, Murray always imagined her life could be much better than it was. "I started to grasp the value of the lessons learned while living on the streets. I knew, after overcoming those daily obstacles, that next to nothing could hold me down."
Determined to take charge of her life, Murray finished high school in just two years while camping out in New York City parks and subway stations. She went on to earn a scholarship from the New York Times and entered Harvard University in 2000. In order to be closer to her ill father, Liz has since chosen to attend Columbia University, where she is currently studying.
Liz Murray's very personal and improbable journey sounds like a Hollywood production, and in fact, it was the subject of a movie, From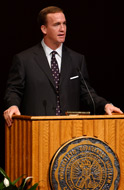 Homeless to Harvard: The Liz Murray Story, which aired on cable's Lifetime network and was nominated for three Emmy Awards. Murray's memoir, Breaking Night, is scheduled to be released in September by Hyperion. Murray also recently became the first-ever recipient of Oprah Winfrey's Chutzpah Award.
The Ubben Lecture Series has brought distinguished individuals to the DePauw University campus since 1986, including Ambassador L. Paul Bremer, National Football League co-MVP Peyton Manning (seen at right), 2004 presidential candidate and retired General Wesley Clark, former British Prime Ministers Margaret Thatcher and John Major, General Colin Powell, Ross Perot, Spike Lee, Mike Krzyzewski, Harry Belafonte and ice cream entrepreneurs Ben & Jerry. To view a complete list of Ubben Lecturers, which includes links to video clips and news stories, click here.
Back