Tigers roll to 88-43 win over Oglethorpe
January 7, 2005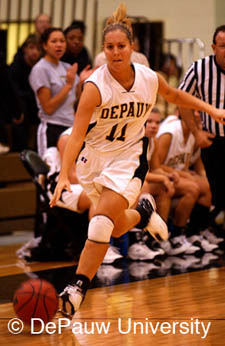 January 7, 2005, Greencastle, Ind. - The 11th-ranked Tigers used a 30-0 run that spanned the first and second halves to defeat visiting Oglethorpe 88-43 in a Southern Collegiate Athletic Conference game. DePauw improved to 11-2 overall and 2-0 in the SCAC with its fourth straight win, while the Stormy Petrels dropped to 5-6 overall and 0-2 in conference play.
Oglethorpe scored with 5:44 remaining in the first half to make the score 33-20, but the Tigers held them scoreless until 12:42 remained in the second half. DePauw led 51-20 at the half and held as much as a 56-point lead in the second half.
The Tigers limited Oglethorpe to 35 percent shooting from the floor and held a distinct advantage at the free throw line, particularly in the first half. The Tigers connected on 15 of 16 from the line in the first half, while the Stormy Petrels were just one of nine.
All 18 DePauw players who dressed saw action in the game and 12 scored. Suzy Doughty led all scorers with 13 points, tied a career-high with seven assists and added five rebounds and three steals. Sarah Zondor moved into 10th place on the DePauw career scoring list as her 11 points moved her past Lindsey Rush. Jordan Cuddy chipped in with 10 points and five assists for the Tigers.
"We haven't been able to get all of our kids minutes, so they want to show us what they can do when they get in there," DePauw Head Coach Kris Huffman said.
DePauw's Amy Argetsinger and Oglethorpe's Julie Colantoni entered the game tied for 19th place on the SCAC all-time scoring list. Both players scored eight points and remain tied. Argetsinger also had a game-high eight rebounds as DePauw held a 42-31 advantage on the glass.
Brittany Corbett led the Stormy Petrels with 10 points with Chiquita Douglas and Stefanie Jo Janssen each grabbing seven rebounds.
DePauw hosts Millsaps at 2 p.m. on Sunday, while Oglethorpe travels to Rose-Hulman. The Majors beat Rose-Hulman 65-56 on Friday night to improve to 5-3 overall and 2-0 in the SCAC.
Back