Vicki Duncan '92 Named Press Secretary for Indiana's New Lieutenant Governor
January 11, 2005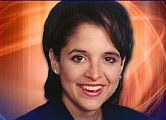 January 11, 2005, Greencastle, Ind. - "Word is just getting out that WRTV (Channel 6) reporter Vicki Duncan will be Lt. Gov. Becky Skillman's press secretary," writes Susan Guyett in this morning's Indianapolis Star. Guyett's "Talk of Our Town" column notes, "Duncan, 34, grew up in Greensburg, Ind., and graduated from DePauw University [in 1992]. She's also been an observer of Indiana state government from the inside, so to speak. Her mother, Cleo Duncan, has represented House District 67 since 1994."
Duncan served as the north bureau reporter at WRTV, the ABC television affiliate in Indianapolis. She joined the station in 1999 "after broadcasting stints in Wichita, Kan., and Carbondale, Ill.," Guyett writes.
Access the column by clicking here.
Back