Prof. Ken Bode & Three Others to Enter Indiana Journalism Hall of Fame April 9
January 18, 2005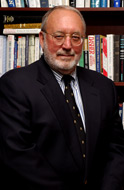 January 18, 2005, Greencastle, Ind. - Ken Bode, Eugene S. Pulliam Distinguished Visiting Professor of Journalism at DePauw University, will be among four new members inducted into the Indiana Journalism Hall of Fame on Saturday, April 9, 2005. The ceremony will take place at the Walden Inn on the DePauw campus. Created in 1966 by the Indiana professional chapter of the Society of Professional Journalists and housed at DePauw's historic East College, the Hall of Fame recognizes those with significant Indiana ties who have demonstrated they are journalists of the highest distinction.
Those being inducted in 2005 are:
Ken Bode, national political correspondent for NBC News in Washington, D.C., from 1979 to 1989 and a senior correspondent for CNN. Currently the Eugene S. Pulliam Distinguished Visiting Professor of Journalism at DePauw, Bode also served as moderator for the PBS television program Washington Week in Review and was dean of Northwestern University's Medill School of Journalism from 1998 to 2002.
Brad Byrd, the lead evening news anchor at WEHT-TV (channel 25) in Evansville for the past twenty-seven years. A graduate of Ball State University, Byrd began his broadcast career in Fort Wayne at WANE-TV before moving to Evansville in 1978. During his career, he has won two Edward R. Murrow Awards and two Emmys. Byrd also writes a bi-weekly column for the Evansville Courier and Press.
Richard K. Shull, retired television writer for the Indianapolis News and author of the "Shull's Mailbag" feature that still appears in the Indianapolis Star. A navy veteran and Butler University graduate, Shull covered politics, courts, and served as assistant city editor for the Indianapolis Times before joining the Indianapolis News as the newspaper's television editor in 1965. Shull's television column appeared in more than a hundred newspapers around the country and his "Mailbag," where he answered questions sent in by readers, appeared in 260 newspapers.
Samuel McClure, editor and publisher who championed the careers of such mucracking journalists as Ida M. Tarbell and Joseph Lincoln Steffens by publishing their works in his popular periodical McClure's magazine. McClure, who died in 1949, lived on a Valparaiso farm as a youth before attending college in Illinois. In 1893 he began the monthly McClure's magazine and won fame by publishing reform articles on a variety of subjects.
The Hall of Fame's induction ceremony will begin at 12:30 p.m. Saturday, April 9, at the Walden Inn in Greencastle. Tickets for the luncheon are $25. For more information or reservations for the luncheon, contact Wes Wilson at (765) 658-4406, or send an e-mail here. For more information about the Hall of Fame and its previous

inductees, visit its Web site by clicking here. Access an Associated Press story on the inductees here.
The Society of Professional Journalists, a national organization which was founded at DePauw University in 1909 as Sigma Delta Chi, is dedicated to improving and protecting journalism. It is the nation's most broad-based journalism organization, encouraging the free practice of journalism and stimulating high standards of ethical behavior. SPJ promotes the free flow of information vital to a well-informed citizenry; works to inspire and educate the next generation of journalists; and protects First Amendment guarantees of freedom of speech and press.
Back