Activision Publishing President Kathy Patterson Vrabeck '85 Quoted in Story on Family-Friendly Video Games
January 12, 2005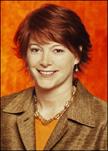 January 12, 2005, Greencastle, Ind. - "As president of Activision Publishing, Kathy Vrabeck helps promote and develop games like Doom 3, Tony Hawk's Underground 2 and Call of Duty," begins a nationally distributed
Associated Press
story. The article by Michael Felberbaum continues, "But she might think twice before buying those top-sellers for her 7-year-old son. In a gaming world where violence reigns, parents like Vrabeck are searching for family-friendly titles bearing a rating of 'E' -- for everyone."
Vrabeck, a 1985 graduate of DePauw University, tells the AP, "As a parent myself, trying to figure out what your kids want is always troublesome."
The story notes, "With kid-friendly movie tie-ins like Shrek 2, Shark Tale, and Lemony Snicket's A Series of Unfortunate Events, Vrabeck and her Activision team have created several titles for children young and old. Though most games target an older audience, companies like Activision, Electronic Arts and Nintendo have alternatives that are universally accepted as family-friendly."
Access the complete text at the Web site of USA Today by clicking here. Kathy Patterson Vrabeck was the subject of an Indianapolis Star profile in March 2004.  Read more here.
Back