DePauw's Winter Term Experiences "Offer Lasting Lessons" to Students: Christian Science Monitor
January 11, 2005
January 11, 2005, Greencastle, Ind. - An article in today's Christian Science Monitor, headlined "Brief forays offer lasting lessons to U.S. students," notes one of DePauw's 2005 Off-Campus Winter Term Study Projects. A sidebar to the column lists "Some of the two- to four-week trips U.S. college students will embark on this winter term," and lists seven programs offered by a like number of colleges and universities. One of them is DePauw University's "China: Tradition and Change."
The Monitor calls the month-long opportunities, "Short, tightly focused programs abroad [that] allow U.S. college students exposure to worlds they might otherwise never see." Stacy A. Teicher writes, "Such programs tend to be focused and intense, prompting both academic and personal growth." Read the article by clicking here.
DePauw University is among the top ten colleges and universities in the United States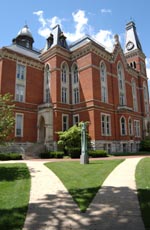 for sending students to study abroad, according to to Open Doors 2004, the annual report on international education published by the Institute of International Education (IIE) with funding from the State Department's Bureau of Educational and Cultural Affairs. Read more by clicking here.
At this writing, 19 DePauw students, accompanied by faculty members Yung-chen Chiang and John Schlotterbeck, are in the midst of their 16-day experience in China. The professors describe "Tradition and Change," as "a historical and sociological study tour of select cities of China -- Beijing, Nanjing, Shanghai, Hangzhou, and Hong Kong -- aiming to provide the students with an opportunity to observe Chinese culture and society at a close range. Its purpose is to enable students to appreciate how history, combined with current political, sociological, and economical imperatives, shapes the lives of the most populous nation in the world."
A synopsis by the professors continues, "The cities chosen represent a cross-section of China's fastest growing region: Beijing, the political and historical center; Nanjing, the capital before the communist revolution; Shanghai and Hong Kong, the prime economic and financial centers; and Hangzhou, a famed garden city. Except for the two day visit

of Hong Kong, the project will consist of guided tours of museums, monuments, historical sites, and scenic spots. In addition, there will be free time for students to explore each of these four cities on their own."
Read more about this Winter Term experience, and others, by clicking here.
Learn how gifts by alumni and friends make it possible for DePauw students to benefit from these distinctive experiences in this previous story.
Source: Christian Science Monitor
Back