Work of Internationally Renowned Yun-Fei Ji on Display at Peeler Art Center, February 2-April 17
January 17, 2005
Also: "Engelke, Goodheart, Hay, and Herrold: Revisited," February 2-March 6 and "2005 DePauw Biennial: Contemporary Art in the Midwest," February 16-May 8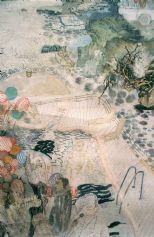 January 17, 2005, Greencastle, Ind. - In his first solo museum exhibition, artist Yun-Fei Ji shares his long-time interest in the social, political and environmental affects occurring in China due to the construction of the world's largest dam, Three Gorges Dam. From February 2 through April 17, the DePauw University' Richard E. Peeler Art Center will host the exhibition, "Yun-Fei Ji: The Empty City," featuring work by the internationally renowned artist. The program is free and open to the public. (at left: Bon Voyage, 2002 (detail), 77 x 26 1/2 inches, ink and mineral pigment on mulberry paper. Collection of Peter Norton, Santa Monica, California)
"Yun-Fei Ji: The Empty City" was organized by the Contemporary Art Museum St. Louis and curated by Shannon Fitzgerald. Contemporary Art Museum St. Louis acknowledges the generous funding support for the exhibition and catalog awarded by the National Endowment for the Arts, the Regional Arts Commission St. Louis and the Arts & Education Council. The exhibition at the Peeler Center is sponsored in part by a donation from the DePauw University Asian Studies Program's Freeman Foundation Grant
Painted on rice paper with mineral inks, Ji presents "The Empty City" as a series of eight related landscapes. Each landscape depicts autumn, as a metaphor for the season, as well as to signify the end of a life cycle. For his exhibition, Ji has created new
paintings that reflect his interest in the affects the construction of the Three Gorges Dam, has had and will have on the people who live in the Yangtze River region. His paintings portray an almost prophetic view of what hundreds of thousands of people in the Yangtze River region will face. (at right: The Empty City - The Autumn Colors, 2003, 32 1/2 x 92 1/2 inches, ink and Chinese watercolor on xuan paper. Courtesy the artist and Pierogi, Brooklyn)
Shannon Fitzgerald, curator at the Contemporary Art Museum St. Louis and the show's organizer, describes the exhibition: "Within Ji's autumnal, veiled landscapes, are scenarios that compress the past, present and future," he says. "They also present the failure of Modernist utopian ideas and perhaps warn of what China's future may hold. From a distance, Ji's traditional brush paintings seem to hearken back to the atmospheric landscapes of the Sung Dynasty painters, but viewers who approach the work closely are quickly brought through time as his mists, waterways, mountains, architecture, and people reveal toxic clouds, boiling polluted waters, dangerous craggy mountains, fallen modernist buildings and scavengers and ghosts."
Ji's dark imagery
also includes stylized abstractions that may or may not refer to speech scrolls, intestines, explosions or underworld movement. Using traditional materials (inks, muted pigments, Chinese brushes and handmade mulberry paper), Ji employs age-old methods to illuminate historic and contemporary concerns in a compressed and urgent space. His recent work deals with such issues as the Opium Wars, the Boxer Rebellion, and the environmental impact of the Three Gorges Dam on the Yangtze River region, scheduled for completion in 2009. (at left: The Empty City - East Wind, 2003, 35 1/2 x 53 1/4 inches, ink and Chinese watercolor on xuan paper. Courtesy the artist and Pierogi, Brooklyn)
While his landscapes are influenced by his Chinese predecesors, they also depart from traditional methods in a number of ways. First, Ji plays with our perceptions of space and scale, giving his landscapes a surreal, disconnected quality. Second, instead of the spatial depth achieved by the Sung Dynasty landscape painters, Ji's overloaded scenes and nonsensical space/time relationships seem to push the picture plane into the viewers' space. Third, Ji populates his landscapes with disproportional mythical, political or historical figures that create enigmatic and fascinating narratives for viewers to unravel.
Fitzgerald notes, "While 'The Empty City' is about the possible fate of thousands of people in China, these new pieces make you contemplate each individual's place and position between the past and present, between nature and the man-made, and most of all -- within contemporary global culture."
Support for Yun-Fei Ji: The Empty City has been provided by the National Endowment for the Arts, the Regional Arts Commission St. Louis and the Arts & Education Council.
The artist will appear and speak at an opening reception, February 23, from 4 to 6 p.m. The galleries at the Richard E. Peeler Art Center are open Monday through Friday from 9 a.m. to 4 p.m.; Saturday 10 a.m.-4 p.m.; and Sunday 1-5 p.m. For more information, call the gallery information line at (765) 658-4882 or click here.
Back