Noted Theologian and Preacher Bishop William Willimon to Deliver Mendenhall Lecture March 8
February 18, 2005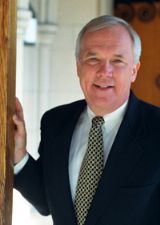 February 18, 2005, Greencastle, Ind. - Bishop William Willimon -- the Episcopal leader of the North Alabama Conference of the United Methodist Church and one of the nation's top Methodist theologians -- will deliver the spring Mendenhall Lecture at DePauw University on Tuesday, March 8, 2005. Bishop Willimon will discuss "DePauw: Being a University in Light of the Trinity" in a speech that begins at 7:30 p.m. in Gobin Memorial United Methodist Church. The event is free and open to all.
Bishop Willimon, a prolific author and internationally acclaimed preacher, was named the new bishop of United Methodists in North Alabama on July 17, 2004. Willimon earned his M.Div. at Yale and his S.T.D. at Emory University and spent most of his academic life at Duke University where he was professor of christian ministry and dean of the chapel.
The Bishop is the author of fifty books including Character and Calling: The Virtues of the Ordained Life and The Sunday After Tuesday: College Pulpits Respond to 9/11. In 1996, an international survey by Baylor University named Willimon one of the "Twelve Most Effective Preachers" in the
English-speaking world, a list that included evangelist Billy Graham.
The Mendenhall Lectures, which were inaugurated in 1913, were endowed by the Reverend Doctor Marmaduke H. Mendenhall. His desire was to enable the University to bring to campus "persons of high and wide repute, of broad and varied scholarship" to address issues related to the academic dialogue concerning Christianity. Although Mendenhall was a pastor in the North Indiana Annual Conference of what was then called the Methodist Episcopal Church, one of the parents of the United Methodist Church, he explicity dictated that lectures be selected without regard to denominational divisions. The endowment has allowed DePauw to bring theological and religious scholars of international repute to campus for nearly a century.
Back