Problems at CBS May Result in "Tamer, More Compliant News Division," Writes Prof. Ken Bode
January 14, 2005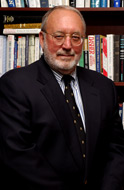 January 14, 2005, Greencastle, Ind. - "With the report detailing the flawed journalism at CBS News, one remaining loose string from the 2004 election has been tied up," writes Ken Bode in today's Indianapolis Star. CBS now joins CNN, ABC, NBC, the New York Times, the Washington Post and USA Today in providing journalism classes with examples of how not to practice the profession." DePauw's Eugene S. Pulliam Distinguished Professor of Journalism continues, "What CBS now expects you to believe is that mistakes were made and atoned for. Among the guilty parties, heads have rolled, and CBS will be better for the bitter experience. That isn't necessarily so and certainly isn't the whole story."
In the wake of an independent investigation into a CBS report on President Bush's National Guard service, "the offending producer is fired, a few executives are asked to resign and CBS News will create a new position to oversee broadcast standards, all designed to create the impression that real change has taken place. But folks with long experience in the television news business see it differently. To them, the real headline is that CBS used this fiasco to get rid of Dan Rather, whose Evenin

g News has been mired in deadly third place in network ratings."
Dr. Bode, former senior political analyst at CNN, asserts, "the firings stopped one level below where they needed to for a real housecleaning. Leslie Moonves, CBS chairman, announced that news division President Andrew Heyward would keep his job... Moonves says Heyward is 'the perfect person to guide CBS out of this mess.' Of course. After all, he guided them in. Moonves had one overriding reason to keep Heyward around. CBS News now goes forward with a leader whose job was saved by a boss whose values have nothing to do with news. Moonves comes from the entertainment side of the network, which

makes the money. Hollywood values, not news values. Insiders expect to see a tamer, more compliant news division."
Read the complete column at College News.org.
Ken Bode's other recent essays can be accessed here, here,here, here, here, here, here, here, here, here, and here.
Back