"A Fine Debut" Writes Dallas Morning News of Book by Cathy Day '91
January 15, 2005
January 15, 2005, Greencastle, Ind. - "The Circus in Winter is a fine debut collection of stories born when the author was struggling to find a subject for her undergraduate thesis at DePauw University in Greencastle, Ind.," begins a Dallas Morning News review of the book by Cathy Day, a 1991 graduate of DePauw. "'You're from that weird circus town, right?' one of her professors said. 'Why don't you write about that?' Day, herself a descendant of circus people in Peru, Ind., took his advice. Using family stories and historical research, she has turned her hometown into the fictional Lima, Ind., winter headquarters for the Great Porter Circus from 1884 to 1939."
Elizabeth Bennett writes, "This is a close-up look at all the strange, wonderful characters we've always associated with the Greatest Show on Earth: the dwarfs, the clowns and the trapeze artists, along with sideshow freaks such as the Alligator Man, Monkey Lady and Lobster Boy. The author's razor-sharp details and sympathetic treatment make these people come alive on the pages. Her stories are filled with the homespun wisdom that often comes from loners and outsiders, including the dwarf whose homely, disfigured mother tells him: 'Sometimes the truth don't set you free, honey. Sometimes it's the very worst thing.'"
The reviewer adds, "The animals in these stories are as finely drawn and as interesting as the people... while these stories are often tragic, many of the characters are upbeat and amusing. When Ollie the clown, for instance, realizes he's not funny anymore, he decides he 'might as well get married.' The woman he picks for a wife refuses to marry a clown, so he buys a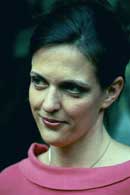 dry cleaning shop in Lima that's up for sale. He never forgets his extraordinary life under the Big Top, though, and when he dies, at age 100, the message on his tombstone reads: 'May all Your Days be Circus Days.'"
Read the article at the newspaper's Web site by clicking here (a free registration is required). The Circus in Winter was one of 2004's best books, according to a pair of year-end summaries (read more here).
Cathy Day, assistant professor of English at the College of New Jersey, is one of three finalists for the Story Prize, given by Story magazine. The Story Prize honors the author of an outstanding collection of fiction. Read more about the author, whose book has received praise in a number of publications, including the New York Times and Sports Illustrated, by clicking here.
Back