Joe Allen '59 To Be Inducted Into US Astronaut Hall of Fame
January 15, 2005
January 15, 2005, Greencastle, Ind. - Joseph P. Allen IV, the first astronaut to capture a satellite in space and 1959 graduate of DePauw University, will be inducted into the U.S. Astronaut Hall of Fame on April 29-30, 2005. More than 25 Hall of Fame astronauts will gather at the Kennedy Space Center for the induction ceremonies. Besides Dr. Allen, the Hall will welcome two other new members: Bruce McCandless, the first person to freely spacewalk without a tether; and Gordon Fullerton, one of the Space Shuttle's first test pilots and mission commanders.
In the 1980's the six surviving Mercury 7 astronauts conceived of a place where space travelers could be remembered -- much like baseball players and other sports figures. Their dream was realized in 1990 when the U.S. Astronaut Hall of Fame opened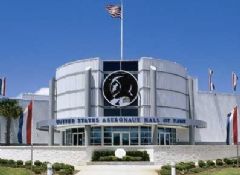 in Titusville, Florida, outside a gate to the Kennedy Space Center. The Astronaut Hall of Fame is now part of the KSC Visitor Complex. The Hall tells in a unique way the history of human space flight and features the world's largest collection of personal astronaut memorabilia.
Joe Allen, a member of DePauw University's Board of Trustees, flew as a mission specialist on two space shuttle flights and served as a mission controller for Apollo 15 and 17 and for the first test flight of the space shuttle. During his NASA career, Allen also served as assistant administrator of the agency from 1975-1978 and as director of astronaut training and operations in the early 1980s.
A Fulbright Scholar, Dr. Allen has received numerous awards, including the NASA Exceptional Scientific Achievement Medal, the NASA
Exceptional Service Medal, the Wilber Cross Medal from Yale University and the Lloyd's of London Silver Medal for Meritorious Services. He also authored Entering Space: An Astronaut's Odyssey. Joe Allen's father, Joseph Percival "Perk" Allen III '30, was a member of DePauw's economics faculty from 1957 until his retirement in 1975. Today, Allen serves as chairman of the board of Veridian Corporation and on the not-for-profit Challenger Center for Space Science Education. Read more in this previous story.
For information on the 2005 U.S. Astronaut Hall of Fame induction gala, click here. Learn more about the Hall here.
Back