Chicago Tribune Article Examining Media Bias Quotes Prof. Jeff McCall '76
January 16, 2005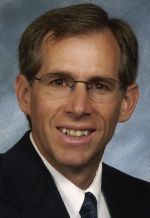 January 16, 2005, Greencastle, Ind. - "The humiliation of two media figures, [conservative commentator Armstrong] Williams and CBS anchor Dan Rather, within four days of each other highlights and exacerbates the long-running, angry battle to define the media as biased in one direction or the other," writes Naftali Bendavid in today's Chicago Tribune in a story that includes analysis from a DePauw University professor. "The fight has become part of the Washington game, stemming from heartfelt belief as well as political strategy," Bendavid adds.
The article notes, "A movie last year, Outfoxed, labeled Fox News Channel a right-wing tool. Entire organizations -- such as Accuracy In Media, or AIM, on the right and Fairness & Accuracy In Reporting, or FAIR, on the left -- are devoted to pointing out news pieces they consider slanted. The Rather and Williams episodes have played directly into this battle. 'Partisans view the world through their particular perspective and rose-colored glasses,' said Jeffrey McCall, communications professor at Indiana's DePauw University. 'They are frequently looking for examples from the side they don't agree with that the media is against them.'"
Read the complete story, headlined "Media failures fan rival bias charges," by clicking here (a free registration is required).
Dr. McCall, a 1976 graduate of DePauw, is regularly quoted in news stories on media issues. Within the last month, he's offered analysis to the UK's Sunday Scotsman, CNN International, CNN/Money.com, the Florida Times-Union and the Milwaukee Journal Sentinel.
Source: Chicago Tribune
Back