Reality Shows Are Anything But, Writes Prof. Jeff McCall '76 in Buffalo News
January 17, 2005

January 17, 2005, Greencastle, Ind. - "When you turn on your TV to watch a sitcom, you expect to find a sitcom. Same with dramas, sports and news. So why do we not find reality when we tune in a 'reality' show? Probably because the network marketing people felt that labeling programs as 'concocted' or 'contrived' might not have the audience-grabbing effect that so-called reality does," writes Jeffrey M. McCall, professor of communication at DePauw University, in the Buffalo News. An op-ed by Dr. McCall, headlined "Those 'reality' shows are anything but," examines the popular programs where participants "go through auditions and are carefully selected by producers to play certain roles [and] Writers prepare 100-page outlines of 'unscripted' episodes with suggested outcomes and commentary."
The professor, a 1976 graduate of DePauw, states, "The only real aspects of 'reality' television are the ethical issues they keep raising. As producers compete for a generally fickle audience, the content and themes of shows become increasingly bizarre and edgy. The recent FOX offering, Who's Your Daddy? features a young woman who was adopted as an infant trying to identify her biological father from a field of eight men. Thankfully, adoption advocates and others who respect human dignity have blasted the program, and FOX affiliate WRAZ-TV in Raleigh-Durham, N.C., kept it off the air. Sadly, no other FOX affiliates dumped it.
McCall adds, "It's too early to tell for sure, but 'reality' fatigue might be starting to creep into the viewing public," noting that "ratings for reality shows last fall were generally down... Hopefully, audiences are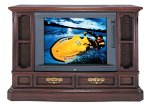 sending network executives back to the drawing board to produce some quality programming that can at least be accurately labeled."
Read the complete essay at College News.org.
Jeff McCall was also quoted in a Chicago Tribune column that was distributed nationally over the weekend. Learn more here.
Source: Buffalo News
Back