My Soul is a Witness Comes to DePauw February 21
February 14, 2005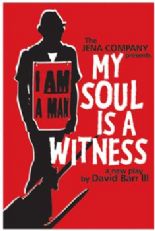 February 14, 2005, Greencastle, Ind. - Hear voices from the future, imagine dreams for the future, and experience the battle that still rages when the documentary play My Soul is a Witness comes to DePauw University. The New York City-based Jena Company will present one performance of the play, written by David Barr III, on Monday, February 21 at 7:30 p.m. in Moore Theatre of the Performing Arts Center. Sponsored by Student Services, Black Studies and the DePauw's Communication and Theatre Department as part of Black History Month at DePauw, the play is free and open to all.
My Soul is a Witness is a rousing look at the people and events from the early days of the civil rights movement and their legacy, which still resounds today. Dr. Martin Luther King, Rosa Parks, Malcolm X, John and Robert Kennedy -- all the legendary names are represented, plus the unsung heroes. From tragic assassinations to explosive debates over non-violent protest, from the great public gatherings to narrow escapes from vigilantes -- the events come to life through reenactments so real it's as though they're happening now.
David Barr III is associate artistic director of the Chicago Theatre Company. Since 1986 he has been writing plays dealing with the black
experience. His first full-length play, Death of the Black Jesus, brought him to the attention of critics and began his award-winning string of plays. Other critically acclaimed works include Music of the Spheres and The State of Mississippi vs Emmett Till.
Learn more about DePauw Theatre by clicking here.
Back