Students to Perform Results of Winter Term Experimental Theatre Project, January 24 & 25
January 18, 2005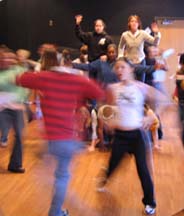 January 18, 2005, Greencastle, Ind. - Two members of the pioneering experimental theatre group, The Living Theatre, are working with DePauw University students this Winter Term, and you can see the results of their efforts on January 24 and 25. The 25 students in the course are collaborating with the company members, and Tim Good, assistant professor of communication and theatre, to create six original scenes based on concerns of the student community. Performances of the scenes are Monday, January 24, and Tuesday, January 25 at 7 p.m. in the Performing Art Center's Kerr Theatre. Admission is free.
The Winter Term class, taught by Professor Good, is titled, "Experimental Theatre in Action." Founded in 1947 in New York City by Judith Malina and Julian Beck as a reaction to traditional commercial theatre, The Living Theatre is best known for its productions of unconventional American and rarely produced European writers that sparked the off-Broadway movement. To date, The Living Theatre has staged over 80 productions in 8 languages

in 25 countries, producing a unique body of work that has influenced theater the world over.
One of the limited number of theatre companies of this type still in existence, The Living Theatre has recently relocated to NYC from its European base and continues to develop and produce plays designed to embody the beautiful, nonviolent anarchist revolution. The DePauw students are utilizing techniques developed and honed by the company throughout its 58-year history.
The working titles of the six scenes are: "Communication," "Sex 101," "Them vs. Us - Haves vs. the Have Nots," "Individuality," "Disposability," and "The Family Dinner." A discussion between audience and cast will follow each performance.
For additional information, contact Tim Good at (765) 658-4486 or send an e-mail by clicking here.
Back