Sophomore, Interning in Washington, Will Attend Constitution Ball
January 20, 2005

January 20, 2005, Greencastle, Ind. - Jeni Jessen, a DePauw University sophomore, "will be attending the Constitution Ball today, one of several events scheduled for President Bush's second-term inauguration," states an article in her hometown newspaper, Indiana's Johnson County Daily Journal. Angie Rayphole writes, "Before 20-year-old Jeni Jessen left college for an internship in Washington, D.C., her mom bought her a formal dress in case she could attend any of the presidential inauguration events. After seeing ticket prices for some of the events, the family knew the 2003 Franklin Community High School graduate would only be able to attend if her internship with the College Republican National Committee landed her an invitation. Almost two weeks ago, her parents, the Rev. Peter and Elizabeth Jessen of Franklin, received a package in the mail. Inside were invitations to several inaugural events, including the Constitution Ball."
The story notes that Jessen will also "attend the oath of office ceremony, then go to the inaugural parade and attend an open house hosted by Sen. Richard Lugar. She'll have two hours to dress up for the Constitution Ball, which begins at 7 p.m." The sophomore tells the newspaper, "It's a real honor, and I feel really blessed."
Jessen is spending her Winter Term working for the College Republican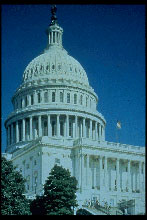 National Committee. "At her internship, the DePauw University sophomore answers mail, e-mail and the phone and volunteers as an escort for some of the committee's events," the story continues. "At DePauw, she works on the campus radio and television stations and is a member of Kappa Alpha Theta sorority. A sorority sister who had interned at the committee and is an intern at the White House suggested Jessen apply for the internship. The two women will attend the ball together."
Read the complete text at the newspaper's Web site by clicking here. Jessen was profiled in the November 9, 2004 Indianapolis Star. Read more here.
Back