America Will Miss the Insights of William Safire, Prof. Ken Bode Writes
January 21, 2005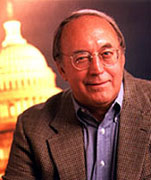 January 21, 2005, Greencastle, Ind. - "I have always urged my students to get the other point of view. Find a columnist who disagrees with you and read him or her," writes Ken Bode, Eugene S. Pulliam Distinguished Visiting Professor of Journalism, in today's Indianapolis Star. Dr. Bode's column today is dedicated to William Safire, the nationally syndicated newspaper columnist. "To liberals and Democrats, I recommend Safire. He is a conservative Republican, libertarian on civil liberties, connected to well-placed sources, and his columns often make news. For more than three decades Safire has appeared in the New York Times and 300 other newspapers, including the Star. At the end of this month, the prodding will stop. Safire is going on to other things."
Professor Bode, former senior political analyst at CNN, writes that Safire (seen below right) "puts himself in other people's brains, Hillary's, for example, or Gorbachev's and conducts a tour of their thoughts. It is a fictional device, he says, that enables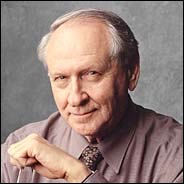 him to slip all kinds of facts and conclusions into the column. This is what Gorby is thinking, or should be... Safire makes no bones about using his column to influence policy, particularly on the Middle East where his views are hawkishly pro-Israel. It is said he has a direct phone line to Prime minister Ariel Sharon."
Noting that Safire will continue to write a column for the Sunday Times Magazine, Bode concludes, "Every working pundit in America has a copy of Safire's Political Dictionary within reach. Most recently I consulted it regarding Defense Secretary Donald Rumsfeld's plan to manipulate information to influence opinion abroad. The Safire definition that best applied was: disinformation -- misinformation deliberately spread, a technique of black propaganda. His last column will be Monday. I will miss Safire. He is a gifted wordsmith who worked his sources and wove
his own densely textured political worldview. So long Bill."
Read the complete essay at College News.org.
Other recent columns by Ken Bode, who will be inducted into the Indiana Journalism Hall of Fame in April (read more here), can be accessed here, here, here, here, here, here, here, here,here, here, and here.
Source: Indianapolis Star
Back