Author and Investigative Reporter Eric Schlosser to Deliver Address at DePauw's 166th Commencement
February 2, 2005
Also: Five to Receive Honorary Degrees; Order Your 2005 Commencement DVD; Visit Commencement Web Site
February 2, 2005, Greencastle, Ind. - Eric Schlosser, author of the national bestseller Fast Food Nation, will deliver the address to graduates at DePauw's 166th annual Commencement, Sunday, May 22, 2005, at 1 p.m. on East College lawn. A selection committee composed largely of DePauw seniors chose Schlosser, who visited DePauw on November 11, 2003 to deliver The Timothy and Sharon Ubben Lecture (access a story with video and audio clips here).
"The message Eric Schlosser brought to DePauw on that day is one our seniors felt was important and timely," says DePauw President Robert G. Bottoms. "As an investigative reporter whose work examines the way we live and how our decisions can affect the lives of others, Mr. Schlosser is a most appropriate choice to be the speaker who sends our new graduates off into the world. I share the committee's delight that he has accepted DePauw's invitation to speak and receive an honorary degree in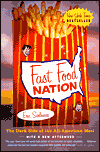 recognition of his illustrious career."
A graduate of Princeton University, Eric Schlosser has been a correspondent for the Atlantic Monthly since 1996. His first book, Fast Food Nation, spent more than a year on the New York Times bestseller list. In a review of Schlosser's second book, Reefer Madness: Sex, Drugs and Cheap Labor in the American Black Market, Salon.com's Gary Kamiya wrote, "to save $50 a year off our grocery bills, we close our eyes to the fact that our choicest fruits and vegetables are picked by illegal immigrants who are among the poorest workers in the country... Schlosser is a meticulous reporter who rakes the muck with the best of them." A regular guest on network television news programs, Schlosser is featured on the recent DVD release of Supersize Me and is currently at work on a book about the American prison system.
The Washington Post describes Eric Schlosser as "part essayist, part investigative journalist. His eye is sharp, his profiles perceptive, his prose thoughtful but spare." The San Francisco Chronicle's David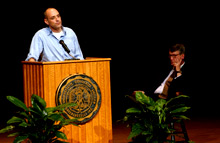 Kipen adds that Schlosser is "a prodigiously gifted reporter with an unerring nose for the big story hiding in plain sight and for the examples that illustrate it best."
Heralded as "society's quiet crusader," Schlosser challenges people to think about such critical and often overlooked issues as food safety, workers' rights, the war on drugs, marketing to children and the epidemic of obesity.

[DOWNLOAD AUDIO: "Why Care?" 744KB] "Our economy is questionable, and when all of you are going to be entering a job market next year or in a few years that's highly uncertain, and in many ways our future is more uncertain than it's been in our lifetime... so why should you care about what's behind the Big Mac and supersize fries?," Schlosser asked the audience at his DePauw Ubben Lecture. "I would argue that if you ever go to a fast food restaurant, you should care. You should really care about what you're eating, and how it's being made and, most importantly for me, who's making it for you."
Schlosser visited two classes while at DePauw.

[DOWNLOAD VIDEO: "DePauw and its Students" 1300KB] "I had the privilege of touring this University today, and it is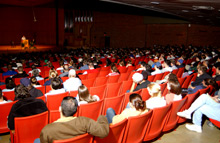 incredibly impressive," he noted. And in talking to students, I was really, really taken by how bright the questions were and how interesting the conversation was. If you look at young people in the United States, you guys have perhaps the greatest opportunities and are among a very, very small segment of this society who has tremendous opportunity."
The commencement committee is composed of students: Lindsey Ciochina, Delores Colone, Joy Conway, Ty Hollett, Kayla Lanham, Gabby Peek, Stephanie Rivera, Kim Schreier, Jamarcus Shephard, O'Brien Walker, Mike Zabelin; and faculty members: Caroline Gilson, Peter Graham and Kerry Pannell.
Back