Tigers catch fire in second half to take SCAC win over Rhodes
January 21, 2005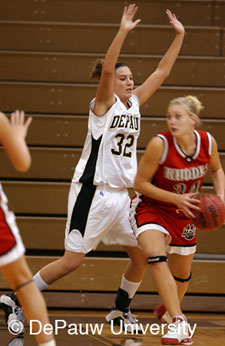 January 21, 2005, Greencastle, Ind. - Trailing most of the first half, 20th-ranked DePauw shot 62.5 percent over the final 20 minutes and pulled away from visiting Rhodes on the way to a 78-55 Southern Collegiate Athletic Conference victory. DePauw improved to 14-3 overall and 5-1 in the SCAC, while the Lynx dropped to 8-7 overall and 2-4 in the SCAC.
The Tigers scored the final five points of the first half to go to the intermission tied 31-31. They then opened the second half with an 8-3 run and never relinquinshed the lead. The Lynx were still within seven at 55-48 after Taylor Cook's free throw with 9:47 left, but DePauw scored the next eight to put the game away.
"In the first half we were concerned about containing their penetration so we talked about stepping up, ball pressure and being aggressive defensively," DePauw head coach Kris Huffman said.
The Tigers hit 20 of their 32 second-half field goal tries while holding Rhodes to just 31 percent from the floor. DePauw, ranked 10th in Division III field goal shooting, finished at 49 percent for the contest.
Amy Argetsinger led the Tigers with 21 including 16 in the second half, while Sarah Zondor added 17 and knocked down 17. Argetsinger and Lindsay Houin each grabbed eight rebounds as the Tigers outrebounded Rhodes 40-27. Argetsinger and Kalei Lowes each recorded three assists.
Rachel Hettinger led Rhodes with 15 points, while Cook and Ashley Farrell each scored 13. Cook grabbed eight boards and Farrell dished out six assists.
DePauw hosts Hendrix on Sunday at 3 p.m., while Rhodes travels to Rose-Hulman. Rose-Hulman defeated Hendrix 80-67 this evening.
Back