Emeritus Prof. Jim Cooper Cited in Story on Historic Bridge Being Saved
January 23, 2005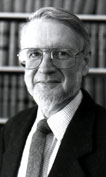 January 23, 2005, Greencastle, Ind. - "Carrollton Bridge takes you over the Wabash River," writes Kevin Cullen in today's edition of Indiana's Lafayette Journal and Courier. "The concrete span -- longer than two football fields -- dates to 1927. It was designed by one of the nation's most important civil engineers, Daniel Luten. It's a masterpiece, with six graceful arches, massive piers, and brackets that support the cantilevered deck. Its image appears on the cover of Artistry and Ingenuity in Artificial Stone: Indiana's Concrete Bridges, 1900-1942, a 1994 study by DePauw University history professor emeritus James Cooper."
The article continues, "In 2003, the bridge was listed on the National Register of Historic Places. Last week,

Carroll County commissioners voted to rehabilitate it rather than replace it."
Read the complete story at the newspaper's Web site by clicking here.
Back