DePauw wins third straight with victory over Hendrix
January 23, 2005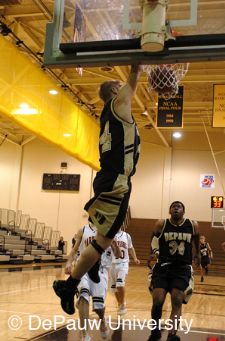 January 23, 2005, Greencastle, Ind. - Austin Brown scored 15 and Steve Schott added 14 points and a career-high 13 rebounds as DePauw defeated Hendrix by a 74-60 count. The Tigers improved to 11-6 overall and 5-2 in the Southern Collegiate Athletic Conference with their third straight win and sixth victory in the last seven games, while the Warriors dropped to 5-12 overall and 1-6 in the SCAC.
The Tigers trailed just once at 2-0 and held the Warriors without a field goal for an eight-minute stretch of the first half in turning a 14-9 lead into a 24-10 advantage. DePauw led at the intermission by a 33-18 count.
That lead reached a high of 28 points at 63-35 on Schott's layup, but the Warriors rallied with a 15-0 run over the next 2:40 to close the gap to 63-50 with just under three minutes to play. Hendrix got no closer than 12 the rest of the way.
"We played really well in the first half of both games," DePauw head coach Bill Fenlon said referring also to Friday's win over Rhodes. "Today we didn't close the thing out like you'd like to."
Schott posted his sixth double-double of his rookie campaign, while Brown's points came in just 18 minutes of play. The Tigers held a 43-19 advantage on the boards and grabbed 12 on the offensive boards. Joey Hanger dished out six assists and Reid Sakel added five in the win.
Justin Jaramillo led Hendrix with a game-high 22 including 16 in the final 5:37. Brant Bishop added 12 and Drew George finished with 11.
The Tigers shot 49 percent for the game including 56 percent in the second half and held Hendrix to just 36.5 percent for the game and 27 percent in the first half.
DePauw travels to Sewanee on Friday for an 8 p.m. CST contest which can be heard live on WGRE. Hendrix hosts Oglethorpe on Friday.
Back