Barry Roberts '60 Named 'Teacher of the Year' at Connecticut School
January 24, 2005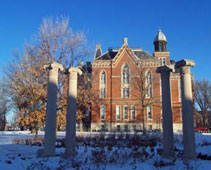 January 24, 2005, Greencastle, Ind. - Barry G. Roberts, a 1960 graduate of DePauw University, has been named "Teacher of the Year" at the Sherman School in Sherman, Connecticut. Roberts teaches English to middle school students at the school, where he has worked for 37 years.
An article in the Citizen's News of Naugatuck, Connecticut notes that Roberts, who was raised in the Chicago area, "attended college at DePauw University in Greencastle, Indiana, where he double majored in English and French. In his junior year he received the opportunity to study French abroad at the University of Strasbourg, France. During his senior year, after returning to DePauw, he decided to take the Navy preliminary tests for Officers Candidate School. The tests were being held in Newport, Rhode Island. Arriving East with every intention of a career in the Navy, Mr. Roberts was faced with a small space of time, a few days, in which he had to wait for his security clearance. An advertisement calling for a French teacher in a town called Kent, Connecticut caught his eye. He applied and the Navy lost a fine officer but western Connecticut gained a teacher supreme."

Roberts tells the newspaper, "Nothing pleases me more than getting a fine piece of writing from one of my students. I let them know that they have written something that has never been written before, that they created it and I'm proud of them for creating it." He has stated, "I teach because I want to share the wonder of the world with young minds and hearts. I care for humanity and would have my students care as much. I'm an English teacher -- a language teacher -- because communication, whether of thoughts or feelings, is what being human is all about."
Visit the Sherman School's Web site by clicking here.
Back