Senior's Essay, Runner-Up in Contest, Published in Glimpse Magazine
January 25, 2005

January 25, 2005, Greencastle, Ind. - An essay by DePauw University senior Anna Vander Broek, about her semester abroad in Wales, is published in the Winter 2005 issue of Glimpse magazine. The article, titled "Welsh Secrets: Understanding the 'True' Wales," was a runner-up in Glimpse's Fall 2004 writing contest, "Foregone Conclusions."
"'Wales is a backward country.' I am sitting on the train from London, heading toward Carmarthen, Wales, where I am going to spend the upcoming semester," Vander Broek, a senior English (writing) major, begins. "A young Englishman, after learning of my destination, is half talking to me, half to himself. I have already heard what he is telling me -- that Welsh culture is a bit 'behind' its progressive neighbors, the British. 'Backward? How so?' I ask him. He gives me a funny look and raises his eyebrows. 'Have you heard the accent?' I shake my head and look out the window, watching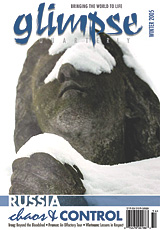 the landscape slowly change as we head west. Sitting here in the train I see sheep running everywhere, in front of cars and around the streets of the villages. Drivers seem to ignore the sheep the way we ignore squirrels, letting them go about their business, patiently waiting as they cross the street. I become aware that the grass is a color green I have never seen before -- a brighter, fresher green than the grass back in my home state of Michigan. The Welsh hills roll together, creating a depth that makes me wish I could paint."
Read the complete essay at the magazine's Web site by clicking here.
Back