Celebrate the 90th Birthday of Prof. Emeritus "Jack" Cook at February 12 Open House
January 30, 2005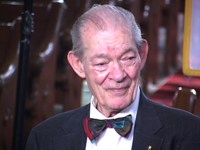 January 30, 2005, Greencastle, Ind. - You're invited to celebrate a special day in the life of a good and faithful friend of DePauw University. On Saturday, February 12, an informal open house will be held in honor of the 90th birthday of Donald J. "Jack" Cook, professor emeritus of chemistry. The event will take place in the library of the Walden Inn from 1 to 3 p.m. Light hors d'oeuvres and sweets will be served, and all are welcome to attend.
"Jack Cook is one of the individuals that makes DePauw the very special place that it is," says DePauw President Robert G. Bottoms. "He served the University with distinction as a member of its faculty, and since his retirement in 1980 has done much to enhance life and learning on the DePauw
campus and in the surrounding community. I can't count how many alumni ask about Jack and tell me that he played a significant role in their development. February 12 will be an opportunity for us to say, in a small way, 'thank you' for all that he has done and continues to do."
Dr. Cook, a native of Rock Island, Illinois, received a B.A. from Augustana College, a master's degree from the University of Illinois, and a Ph.D. from Indiana University. Having spent several years working as an industrial chemist, Cook joined DePauw's chemistry department in July 1945, and spent 35 years as a full-time staff member and another five years teaching part-time. The professor served as chair of the department for 13 years, initiated and directed the National Science Foundation Program for the Improvement of Teaching Science and Mathematics in the Elementary Schools, served the American Chemical Society as a visiting associate for its Committee on Professional Training, was a member and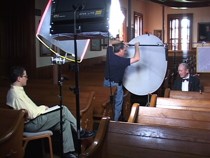 chairman of the Visiting Scientist Committee's Division of Chemical Education, and was a staff member of the National Science Foundation in Washington, D.C.
Cook and his wife, Marion, were friends with the legendary chemist Percy Lavon Julian, a 1920 DePauw graduate who later worked as a research associate at the University. The Cooks, who maintain a relationship with Dr. Julian's family, were interviewed for a PBS NOVA documentary on Julian which has been compiled over the last few years and is scheduled to air in the spring of 2006 (read more about the program here). Professor Cook has worked to keep Percy Julian's legacy alive. In 1976 he initiated the Percy L. Julian Memorial Lecture Series and his efforts helped convince the U.S. Postal Service to issue a stamp honoring Dr. Julian in 1993.
Jack Cook also spearheaded the successful effort to have the cornerstone and columns from the old Minshall Laboratory placed near their original site; worked to ensure that artifacts in the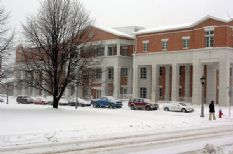 original Percy L. Julian Science and Mathematics Center were preserved and placed in the building once its restoration was complete; and wrote an extensive history of the chemistry department at DePauw. Dr. Cook and his wife are founders of the Heritage Preservation Society, and the professor is active with the Putnam County Historical Society.
"Jack has had a busy retirement in service of others," Dr. Bottoms noted. "The DePauw and local communities owe him a debt of gratitude, and we look forward to the 12th, which will be a joyous occasion."
Back