Learning & Personal and Professional Growth are Hallmarks of DePauw's Winter Term
January 28, 2005
January 28, 2005, Greencastle, Ind. - DePauw students and faculty members are wrapping up a month-long exploration of many academic, civic and professional projects they've undertaken during Winter Term 2005. This month's experiences spanned numerous fields of study and even the far corners of the globe -- providing students with an uncommon opportunity for learning, and personal and professional growth.
"Students look back on Winter Term and realize that 'Wow, I was able to do all those other things that my colleagues weren't able to do,'" Jeffrey Hollander, director of Winter Term, said. "We place a serious emphasis on helping students have an ex
perience outside the classroom that enhances their liberal arts education."
Nine hundred and 40 students, including all first-year students, enrolled in a total of 45 on-campus courses in January. A wide variety of courses was offered, among them: EMT Training, Digital Photography, Computer Animation, Bollywood Fever (Indian films) and Introduction to Jazz Styles. "The on-campus courses are really a place for students to begin learning for learning's sake," Hollander said. "On-campus courses are required of first-year students, and upperclass students are welcome."
In addition to the intensive and unique courses, all first-year students are required to attend 16 hours of co-curricular workshops, which focus on topics such as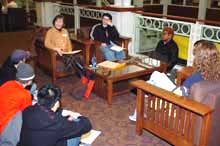 career preparation, community service, leadership skills, computer technology and more. "An extensive co-curricular program for first-year students is an important part of the on-campus Winter Term," Hollander noted.
Off campus, 285 students gained vital professional experience through internships around the nation and world. Students develop their own projects in order to explore personal and career goals. Another 105 students designed independent study projects, in which they focused on an area of special interest under the guidance of a faculty member. Among them:
Rochelle Immel, a junior, worked for InterStar, a marketing and public relations firm in Ft. Worth, Texas. She conducted research for clients, created databases, and assembled media kits and media analysis data. "This internship has given me background in a field that I knew I was always interested in, but I think I now want to pursue something a bit more creative, though still in the marketing and public relations area," she says.

Joe Hilbrich, a junior, interned at the St. Margaret Mercy Rehabilitation Center in Schererville, Indiana, which specializes in adult and pediatric rehabilitation, speech pathology, aquatic therapy, lymphedema treatment and occupational therapy. Joe shadowed as many as eight different therapists throughout the course of a day, and had the opportunity to assist patients with their exercise routines. "I completed a similar internship the previous year, and chose to pursue the occupation of physical therapy. My experiences during these internships have not only reinforced my career plans, but have been rewarding in the sense that I have been fortunate to work with truly inspirational individuals." said Hilbrich. After completing his undergraduate degree at DePauw, Hilbrich plans to attend graduate school and ultimately attain a Doctorate of Physical Therapy.

Molly Monroe, a senior, spent her Winter Term in Seville, Spain, working with the Council on International Educational Exchange. Monroe studied abroad under the program during the spring semester of 2004. During her internship this month, she helped the staff with prepare for the arrival of American students, edited the new student handbook, planned activities, helped students register for classes, and even prepared paperwork for the United States Consulate. "This internship experience reminds me how passionate I am about the importance of international experience, something I took away from my semester here and something that has continued to influence my interests, and myself in general." said Monroe. Molly is now interested in possibly pursuing a career in international education after graduating this May.

Allison Ehinger, a junior, spent her month interning in the Greencastle Middle and High Schools substitute teaching and assisting the English department staff. "I was able to work one on one with an autistic student in an English classroom. Just working with students struggling with different problems really makes me feel more prepared going into a classroom," said Ehinger. Allison is looking forward to returning to one of the schools next fall to complete her student teaching. After graduation she will pursue a career in education.
Three hundred and 35 students participated in Winter Term in Service or study trips. Winter Term in Service projects are a collaborative effort by the Winter Term in Service Office, students and faculty members and the Hartman House. Hollander stressed that the service projects foster student leadership, with students assuming key roles in project planning and completion. This month's five Winter Term in Service sites were in Costa Rica, Cuba, Ecuador, El Salvador and the Navajo Nation (Arizona).
Faculty-led off-campus study trips took place in various domestic and international locations. For example, students participating in the project Historical and Cultural Roots of Psychology: London, Berlin, Vienna, had the opportunity to experience the European cities, focusing specifically on the role each city had in the development of psychology. Students visit scientific museums and laboratories and attend lectures by experts in psychology. Another project, "China: Tradition and Change," offered 19 students a historical and sociological study tour of select cities of China, and was noted in a January 11 article in the Christian Science Monitor (read more here).
"We are really pleased with the combination of the strong curriculum and cultural experience in the off-campus study trips. Off-campus and service projects all involve cultural immersions and experiencing the world in various ways," Hollander explained. "All Winter Term projects are graded. Faculty members teach a Winter Term course every three years, and the Winter Term courses require a lot of preparation time on the part of faculty members. With the expansion of the faculty in recent years, we can allow faculty members more time to prepare and recharge for their next Winter Term course."
Off-campus projects are not included in the cost of DePauw tuition and are not covered by financial aid. Generous donations, such as those to the DePauw Annual Fund, allow the Winter Term office to award partial support to some students who demonstrate financial need. Winter Term off-campus projects are supported by alumni gifts to the DePauw Annual Fund.
DePauw's second semester begins Monday.
(Thanks to DePauw senior Kathleen Egan for her work on this story.)
Back