Olin Foundation's Generosity to DePauw and Florida Tech Noted in Newspaper Article
January 29, 2005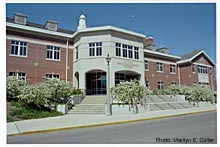 January 29, 2005, Greencastle, Ind. - A newspaper story on the opening of Florida Tech's opening of its new $14 million F.W. Olin Physical Sciences building mentions DePauw University, home of the F.W. Olin Biological Sciences building. The Florida Today article notes that the new structure was made possible by a grant from the New York-based F.W. Olin Foundation. "Named for a nineteenth century industrialist and entrepreneur, the foundation specializes in funding science facilities at private colleges and universities... [It has] awarded grants totaling more than $300 million to construct and fully equip 72 buildings on 57 independent college campuses. In addition to Florida Tech, recipients include... DePauw."
Access the newspaper story by clicking here.
DePauw's Olin building was dedicated on October 15, 1993. Read more here, and take a "virtual tour" by clicking here.
Back