Tigers rally twice before falling in SCAC battle at Centre
January 30, 2005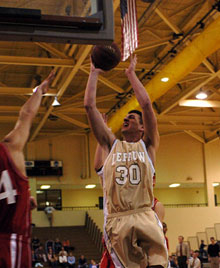 January 30, 2005, Danville, Ky. - DePauw battled all the way back from a 13-point first half deficit to take a late lead, but host Centre grabbed a 73-68 Southern Collegiate Athletic Conference victory from the Tigers. DePauw dropped to 11-8 overall and 5-4 in the SCAC, while Centre improved to 13-6 overall and 5-4 in the conference.
Centre built its second-half lead to as many as eight points before Alex Stewart knocked down a three-pointer with 12:24 left and Steve Schott hit a bucket and a putback to cut the Colonels lead to 46-45 with 10:32 remaining.
The hosts pushed the lead back to four before the Tigers gained their first lead of the contest as Schott had a three-point play, Todd Capes scored on a putback and Schott scored inside on a hook with 6:47 remaining to give DePauw a 55-52 lead.
After DePauw gained as much as a four-point lead, Centre came back with eight straight and never trailed again. The Tigers trailed 64-63 and had apparently grabbed a defensive rebound, but the officials reversed the call and gave Centre possession wtih 1:28 remaining. Thomas Britt then nailed a three-pointer with 1:09 remaining to push the lead to four.
Reid Sakel hit two free throws with 23.2 seconds remaining to cut the lead to 67-65, but Matt Nestheide also hit two with 20 seconds left. Following a DePauw miss with 11 seconds left, Britt pushed the margin to six with two charity tosses. Joey Hanger's three-point play with 4.6 seconds left cut the Centre lead to 71-68, but Nestheide nailed his final two free throws for the final margin.
Schott paced the Tigers with a career-high 21 points and shared the team lead with eight rebounds, while Stewart and Capes each scored 13. Brian Oilar also hauled down eight boards in the loss as the Tigers held a 42-33 advantage on the boards.
Matt Jacobson paced Centre with 13 points with Matt Nestheide and Reggie Magnusson each adding 12. Coy Zerhusen grabbed 13 rebounds.
DePauw travels to Rose-Hulman on Thursday, February 3. The 8 p.m. contest can be heard live on WGRE.
Back