DePauw Head Football Coach Bill Lynch Resigns, Going to Indiana University
January 31, 2005
January 31, 2005, Greencastle, Ind. - Bill Lynch, who guided DePauw University's football team to an 8-2 record as head coach last season and was named co-Southern Collegiate Athletic Conference 'Coach of the Year,' is resigning to become assistant head coach/offensive coordinator/tight ends coach at Indiana University. Lynch, who notified his assistant coaches and players at DePauw of his decision today, will join his longtime friend Terry Hoeppner, who recently assumed the head coaching position at IU, and his son, Billy, who was recently named Indiana's wide receivers coach (read more here).
"The opportunity to work with Terry in rebuilding a program that has great potential is simply too enticing to resist," Lynch says. "It is very difficult to leave DePauw. It is a first class university with great students, a very supportive administration and a long tradit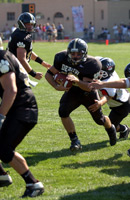 ion of excellence. I'm also very proud of my players and coaches. We were just a few plays away from being the SCAC champions because of their hard work and dedication. It's both an exciting and tough day for me as I look forward to the challenges at Indiana, but must leave some great people at DePauw."
"Bill's had a tremendous impact on the DePauw football program and the entire community and we're sorry to see him leave," says Page Cotton, director of athletics and recreational sports at DePauw. "It was clear from the time he was offered the job that it was going to be a difficult decision for him and we spent hours discussing it."
"We will soon launch a nationwide search for Bill's successor," adds James Lincoln, DePauw's vice president for student services, who along with Cotton will lead the process of finding a new coach. Lynch was only DePauw's ninth head coach in the past 75 seasons. "As we discovered 15 months ago when we launched our last search, DePauw is very highly regarded in the coaching fraternity and I am c
onfident we will have another group of excellent candidates to consider."
"Bill is so highly respected around this state that this is huge news for our program," Hoeppner states. "Bill has enjoyed success as a head coach at three different institutions, and he and I go back a long way. We coached against each other when I was at Miami, and he was at Ball State, and when I was at Franklin College and he was at Butler. I have always been impressed with how well-coached his teams were on and off the field. Bill's hiring completes an outstanding staff at Indiana."
Bill Lynch has a career record of 81-67-3 over 14 seasons. Prior to his appointment at DePauw, where he succeeded the legendary Nick Mourouzis, Lynch led Ball State's football program from 1995-2002. A 1977 graduate of Butler University, Lynch was the head coach at his alma mater for five seasons from 1985-89. He has also served in assistant coaching positions at Butler, Ball State, Indiana University, Northern Illinois University and the Orlando Renegades of the USFL. He served as the

Hoosiers' quarterbacks coach in 1993-94.
This past season, Lynch became the first coach in SCAC history to be named 'Coach of the Year' in his debut campaign. Under Lynch's tutelage, seven DePauw players earned All-SCAC first team honors, and the Tigers compiled the second-best, single-season per game rushing total (254.6 yards) in school history. Lynch is scheduled to be inducted into the Indiana Football Hall of Fame on March 6.
Visit the DePauw football program online by clicking here.
Back