DisneyWar, New Book by Pulitzer Prize Winner James B. Stewart '73, Generating Huge Pre-Release Buzz
February 1, 2005
February 1, 2005, Greencastle, Ind. - "Analysts and investors gathering at the Walt Disney World resort here for the Walt Disney annual conference will be buzzing about a book -- but not one being published by Disney," begins a story from Orlando, Florida, in the New York Times. The book, DisneyWar: The Battle for the Magic Kingdom, written by James Stewart, who won a Pulitzer Prize for his work at the Wall Street Journal detailing the stock market crash of 1987, is being published by Simon & Schuster. It is said to have sections highly critical of Disney's departing chief executive, Michael Eisner." Stewart is a 1973 graduate of DePauw University and chair of the Board of Trustees.
The article by Laura M. Holson and Lorne Manly states that Stewart's new book "is scheduled to go on sale March 7, and it comes at a critical time for Eisner's No. 2, the Disney president, Robert Iger. Iger hopes to succeed Eisner and, so far, appears to be the front-runner. In the book, Eisner is said to
ruminate about Iger's qualifications for the top job, and Stewart is said to portray Disney's ABC television network as dysfunctional.
The article notes, "Stewart, who has written several best-sellers about business and other topics, had spent several years, with the cooperation of Disney executives, researching a book about how Disney mirrored and shaped American culture when, in November 2003, Roy Disney, the nephew of the company founder, Walt Disney, quit the company's board. Stewart then changed the focus of his book. And Disney executives now are questioning whether it was wise to give him access in the first place."
An unauthorized manuscript has made the rounds, according to the writers, and "two people who have read versions of the manuscript and are involved in its publication said the book described Disney as being under siege. While giving Eisner credit for turning Disney into a media giant, they said, it catalogues his shortcomings in managing the company and his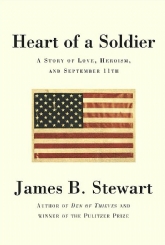 relationships with crucial employees."
Read the complete story at the Web site of the International Herald Tribune by clicking here. Read more about DisneyWar and pre-order the book at Amazon.com and Barnes & Noble.com.
James B. Stewart's last book, Heart of a Soldier: A Story of Love, Heroism, and September 11th, was named "Best Non-fiction Book of 2002" by TIME magazine (read more here).
Other books by Stewart include Den of Thieves, Blind Eye and Blood Sport. The former front page editor of the Wall Street Journal, Stewart is currently editor-at-large of SmartMoney magazine and reporter-at-large for the New Yorker. The San Francisco Examiner called Stewart, who served as editor of The DePauw while a student in Greencastle, "the journalist every journalist would like to be."
Back