Steven Ewing '65 Elected Vice Chair of AAA Michigan Board
February 1, 2005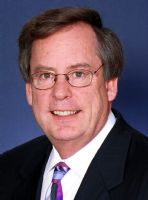 February 1, 2005, Greencastle, Ind. - Steven E. Ewing, president and chief operating officer of DTE Energy Gas and 1965 graduate of DePauw University, has been elected vice chair of the board of directors of the 1.7-million-member Automobile Club of Michigan (AAA Michigan). The election took place today. Ewing, a member of the AAA Michigan board since 1998, will serve a one year term as vice chair and was also elected to serve another three year term on the board.
DTE Energy Gas is one of three major business units of DTE Energy Co. Before joining the firm, Ewing was president and chief executive officer of MichCon. A story at Yahoo! Finance notes that Ewing "serves on the boards of several economic, educational, cultural, community and health and human service organizations and businesses, including Detroit's Regional Chamber and United Way Community Services Board in Detroit. He is second vice chairman of the American Gas Association. Ewing earned a
bachelor of arts degree from DePauw University, an MBA from Michigan State University and an advanced management degree from the Harvard School of Business Administration."
Access the complete text by clicking here.
Back