Students Learn Television Journalism from Two Pros: Dick Johnson '76 & Bret Baier '92
February 3, 2005
February 3, 2005, Greencastle, Ind. - "The three DePauw interns we hosted proved two theories once again: that DePauw students are a cut above the rest in terms of their curiosity, intellect and communications skills and that Winter Term continues to be a valuable tool for students to explore potential careers without the risk of failing or becoming disillusioned by their job choice after graduation." That's what Dick Johnson, morning news anchor at NBC News 5 in Chicago and 1976 graduate of DePauw University, says about Meredith Siemens, Kerri Angel and Marissa Gates, who spent the month of January interning at the network owned-and-operated television station (photo shows students on the set with Johnson and his colleagues on the NBC 5 News Today anchor team).
The trio of DePauw students had a wide range of responsibilities over their Winter Term. They fact-checked and researched stories, set up interviews, logged tape and worked closely with
Johnson (seen at right) and his co-anchor, Ellee Pai Hong.
"It was only because of Winter Term that I have been successfully and very happily employed in broadcast journalism for more than 25 years," Johnson notes. "My senior year Winter Term at WTHR-TV in Indianapolis gave me a chance of inestimable value to peak inside an industry with which I had little knowledge and absolutely no experience. Looking back, I cannot imagine myself more fulfilled by any other career. Almost every year since 1976, I have tried to host a Winter term intern as a way of saying 'thanks' and in the hope that one or more of them will find this career as rewarding as I have."
DePauw junior Nicole Pence spent the fall semester in Washington D.C. interning for Fox News Channel's Weekend Live and studying journalism at American University. At the television network, Pence spent time with Fox National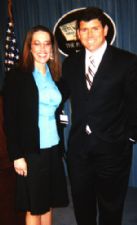 Security Correspondent Bret Baier, a 1992 DePauw graduate, accompanying him to a news conference at the Pentagon.
"I saw this experience as invaluable," Pence says. "This internship taught me numerous skills concerning production, editing, and the operations of a corporation. At Fox, I produced my own segments, interviewed guests, and helped write scripts."
Learn more about DePauw's many internship opportunities by clicking here.
Last month, the Christian Science Monitor cited DePauw in an article that examined the "lasting lessons" internships can provide. Read more here.
Back