DePauw Sending Team to Intercollegiate Business Ethics Competition in Los Angeles
February 15, 2005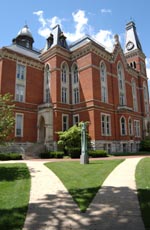 February 15, 2005, Greencastle, Ind. - For the first time, DePauw University is sending a team of students to compete in an intercollegiate presentation competition, annual Business Ethics Fortnight Competitions at The Center for Ethics and Business at Loyola Marymount University in Los Angeles. Three DePauw students will compete in the intercollegiate student team presentation competition, April 15-16.
Representing DePauw will be three first year students: Nicholas Casalbore, a Management Fellow; Seth Elder, an Honor Scholar; and Matthew Sumpter, a Media Fellow.
The DePauw trio will compete against 14 teams of 3 to 5 students (undergraduate or graduate). Teams will make 30 minute presentations that cover the financial, legal and ethical dimensions of a case from any area of business ethics. The competition is judged by executives and faculty; cash prizes will be awarded.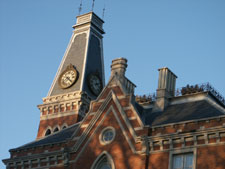 Additional prize money is also available for the optional "L.A.'s Weirdest Biathlon" -- a competition that combines teams' performances in the presentation competition and the LMU 5K/10K Run for the Bay, which takes place Saturday, April 16.
Learn more about the competition by clicking here.
Back