Pulitzer Prize-Winning Historian and Legal Expert Edward J. Larson at DePauw February 8 & 9
February 4, 2005
February 4, 2005, Greencastle, Ind. - Edward J. Larson, Talmadge Chair of Law and Russell Professor of American History at the University of Georgia and recipient of the 1998 Pulitzer Prize in History, will deliver two lectures at DePauw University as part of "Darwin Days." On Tuesday, February 8 at 4:15 p.m. in the auditorium of the Percy Lavon Julian Science and Mathematics Center, Dr. Larson will discuss, "What's So Special About the Galapagos Islands?" The following evening at 8 p.m. in the ballroom of the Memorial Student Union Building, Larson will present "Darwinism and the Victorian Soul: A Lecture on the Interface of Science and Religion." Both events are free and open to all.
The author of five books and over 60 published articles, Edward Larson writes mostly about issues of law, science and medicine from a historical perspective. His first book, Trial and Error: The American Controversy Over Creation and Evolution, chronicles the legal battles over teaching evolution in American public schools. His second book, Sex, Race, and Science: Eugenics in the Deep South, examines the legislative history of eugenics. For his 1997 book, Summer for the Gods: The Scopes Trial and America's Continuing Debate Over Science and Religion, Larson became the first sitting law professor to receive the Pulitzer Prize in History.
His most recent publications include Evolution: The Remarkable History of Scientific Theoryand a property law casebook. Currently, Larson is editing a volume of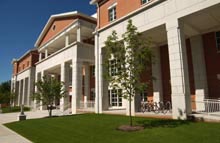 Clarence Darrow's writings for the Modern Library and researching a book on early American patent law.
Darwin Days, which commemorate the birthday of Charles Darwin (born on February 12, 1809), are sponsored by DePauw's Science Research Fellows Program and the Society of Biologists (read more here). Dr. Larson's February 8 lecture is made possible by the Horizon Lecture Fund. Fine Print Bookstore will be selling several of Dr. Larson's books prior to February 8 lecture and the author will be available for signing after that speech.
Back