Tigers win sixth straight; remain in SCAC lead
February 3, 2005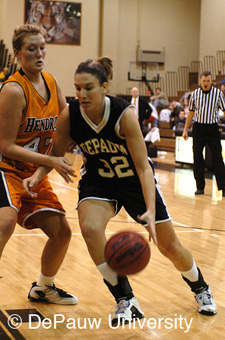 February 3, 2005, Terre Haute, Ind. - A 13-0 first-half run gave DePauw a lead it would not relinquish on the way to a 79-60 Southern Collegiate Athletic Conference win at Rose-Hulman.
DePauw improved to 18-3 overall and stayed in first in the SCAC at 9-1 with its sixth straight win. The Engineers dropped to 10-11 overall and 3-7 in the conference.
Amy Argetsinger led the 14th-ranked Tigers with 17 points and moved into seventh place in SCAC women's basketball history with her 1,344 career points. Argetsinger is now 22 points away from moving into second place in DePauw history and 38 points away from becoming the school's all-time scoring leader.
Sarah Zondor added 12 points in the win and moved up to seventh on DePauw's all-time scoring list.
Kalei Lowes led the Tigers with four assists, while Suzy Doughty recorded three steals. Caitlin McGonigal and Gretchen Haehl each grabbed six rebounds.
The Tigers, ranked fourth in Division III field goal shooting, connected on 50.9 percent from the field and held the Engineers to just 41.8 percent.
Rebekah Forsyth paced Rose-Hulman with 27 points and 16 rebounds, while Suzy Carlson added 17 points.
DePauw returns to action on Friday, February 11, when it travels to Oglethorpe for a 6 p.m. contest. That game can be heard live on WGRE.
Back