Author Richard Peck '56 a "Master of Nostalgia for a Simpler Past," Writes Houston Chronicle
February 4, 2005
February 4, 2005, Greencastle, Ind. - Author Richard Peck, winner of the Newbery Medal and 1956 graduate of DePauw University, is a "master of nostalgia for a simpler past," writes the Houston Chronicle in a review of his latest book, The Teacher's Funeral: A Comedy in Three Parts. Marvin Hoffman opines, "Anyone who has read Peck's prize-winning A Year Down Yonder and A Long Way From Chicago is familiar with his ability to turn adversity into belly laughs. Although some of the material may be familiar, Peck's skill wrings every bit of warmth and humor from it and makes it a very pleasurable read."
Access the complete review by clicking here.
Richard Peck was the 2001 recipient of the Newbery Medal (the top prize for children's literature given by the American Library Association) for A Year Down Yonder. He was also the 2002 winner of the Chicago Tribune Prize for Young Adult Fiction, and the 1990 winner of the prestigious Margaret A. Edwards Award, sponsored by the Young Adult Library Services Association of the American Library Association in cooperation with School Library Journal. He also received the National Humanities Medal from President George W. Bush on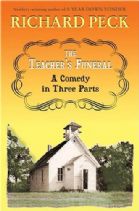 April 22, 2002, the only children's book author to ever be so honored (read more here). He has written more than two dozen novels for young adults.

[DOWNLOAD AUDIO: "Peck on DePauw" 603KB] DePauw "made a writer out of me," Peck has said. "It warned me never to show my rough draft to anybody. That helps. I write each of my books six times because I have to, and it's the sixth version my editor sees and nothing before that. I learned that from DePauw professors."
In addition to the bachelor's degree he received from DePauw in 1956, Richard Peck was awarded an honorary doctor of letters degree in 1999. He has endowed the Richard W. Peck Chair in Creative Writing, currently held by Joe Heithaus, associate professor of English.
Back