'2005 DePauw Biennial: Contemporary Art in the Midwest' to Feature Work of 25 Artists, February 16-May 8
February 9, 2005
Also: "Yun-Fei Ji: The Empty City," February 2-April 17; "Engelke, Goodheart, Hay, and Herrold: Revisited," February 2-March 6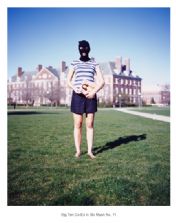 February 9, 2005, Greencastle, Ind. - The work of 25 contemporary artists based in Illinois, Indiana and Ohio will be featured in the inaugural edition of the DePauw Biennial: Contemporary Art in the Midwest, an exhibition that will be on view at the Richard E. Peeler Art Center at DePauw University from February 16 through May 8, 2005. (at left: New Catalogue, Big Ten Co-Ed In Ski Mask No. 11, 2003, digital c-print, 50 x 40 inches; courtesy Bodybuilder & Sportsman Gallery, Chicago)
Curated by Kaytie Johnson, director and curator of University Galleries, Museums and Collections at DePauw, the show features approximately 50 works, several created specifically for the Biennial, by artists based in the three-state region of Illinois, Indiana and Ohio. The 25 artists selected to participate in the 2005 DePauw Biennial -- a group that includes one artist collective -- were chosen because their work confirms an awareness of, and participation in, global contemporary art practice.
"My curatorial prerogative in organizing this exhibition was not to seek out work that expressed any sort of geographic style or sensibility," Johnson says. "My selection of artists was primarily driven by curatorial intuition and critical response. A major goal was to avoi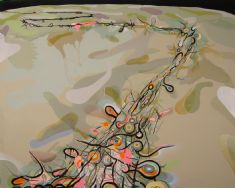 d propagating or perpetuating a sub-genre of contemporary art -- that is, a 'Midwest style' -- one that would suggest stylistic homogeneity or encourage a one-dimensional reading of work in the region." A brochure, with an essay written by Johnson, will accompany the exhibition. (at right: Melissa Oresky, Stream, 2003, acrylic, oil and enamel on canvas, 48 x 60 inches)
Although the show was not organized based upon specific thematic or formal concerns, the work showcased does reflect a number of overlapping tendencies, such as diverse approaches to process, narrative, materiality, abstraction, conceptual strategies, technology, and place. The diversity extends to the wide range of materials, processes and media represented, including sound, Web-based art, video, site-specific installation and performance, as well as painting, drawing, sculpture, photography and digital art.
The artists invited to participate in the 2005 DePauw Biennial are: Noelle Allen (Illinois), Jimmy Baker (Ohio), Conrad Bakker (Illinois), Keith Benjamin (Ohio), Denise Burge (Ohio), Tammy Burke (Indiana), Jennifer Danos (Illinois), Carrie Dickason (Ohio), Katy Fischer (Illinois), Warren Fry (Ohio), Linda Gall (Ohio), Emily Kennerk (Indiana), Chip Kohrman (Ohio), Anthony Luensman (Ohio),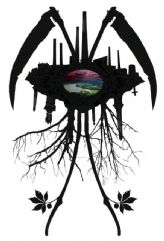 Lori Miles (Indiana), New Catalogue (Illinois), Melissa Oresky (Illinois), Brian Presnell (Indiana), Scott Roberts (Illinois), Jason Salavon (Illinois), Dana Sperry (Indiana), Steve Stelling (Ohio), Jeremy Tubbs (Indiana), Heidi van Wieren (Illinois), and Ryan Woods (Indiana). (at left: Jimmy Baker, Wind of Change, 2005, oil and resin on panel, latex on Sintra and Ohio River water, 60 x 36 inches)
You're invited to attend an opening reception Thursday, March 3, from 6 to 8 p.m. which will feature a performance by Toy Band (read more here). The galleries at the Richard E. Peeler Art Center are open Monday through Friday 9 a.m.-4 p.m.; Saturday 10 a.m.-4 p.m.; and Sunday 1-5 p.m. Please call the gallery information line at (765) 658-4882 or click here for more information about special events associated with this exhibition.
Back