Real-Life Hero of Oscar Nominated Hotel Rwanda, Paul Rusesabagina, to Speak at DePauw April 25
February 10, 2005
February 10, 2005, Greencastle, Ind. - The man whose heroic story is the basis of the Academy Award-nominated film Hotel Rwanda -- Paul Rusesabagina -- is coming to the DePauw University campus on Monday, April 25, to share his story of humanity, courage, perseverance and hope. Rusesabagina will deliver The Timothy and Sharon Ubben Lecture, "Hotel Rwanda: A Lesson Yet to Be Learned," at 7:30 p.m. in Kresge Auditorium of DePauw's Performing Arts Center. The event is co-sponsored by DePauw's Office of Academic Affairs. Like all Ubben Lectures, the speech is free and open to the public (see complete list of past Ubben Lecturers by clicking here).
Ten years ago, as the country of Rwanda descended into madness, one man made a promise to protect the family he loved -- and ended up finding the courage to save over 1200 people. Over the course of 100 days, almost one million people were killed in Rwanda. Hotel Rwanda tells the inspiring story of real-life hero Paul Rusesabagina,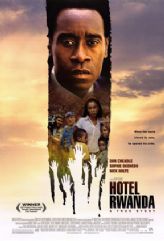 who is portrayed in the movie by Don Cheadle, a hotel manager in Rwanda who used his courage to shelter over a thousand refugees from certain death. The motion picture, which Peter Travers of Rolling Stone called "a film of rare courage and imperishable heart," is nominated for three Academy Awards: Best Original Screenplay, Best Actor (Cheadle), and Best Supporting Actress (Sophie Okonedo).
"The film defines how, using cunning and courage, a person can change the course of history -- and stand up to the inhumanity in our midst," opines CNN's Paul Clinton, while the Washington Post's Ann Hornaday wrote, "The great strength of Hotel Rwanda is that it's not about superhuman heroism but simply about human decency."
Paul Rusesabagina was born June 15, 1954, at Murama-Gitarama in the Central-South of Rwanda; his parents were farmers. Rusesabagina attended the Faculty of Theology in Cameroon and later studied hotel management at Kenya Utalii College in Nairobi. In 19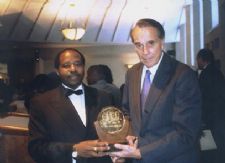 94, he was serving as the manager of the elegant Mille Collines Hotel in Kigali, the capital city of Rwanda, when Rwanda's president was assassinated and ethic violence broke out.. The tribal conflict between the Hutus and the Tutsis led to the genocide of 800,000 ethnic Tutsis and moderate Hutus over a 100-day period. (at left: Rusesabagina receiving 2000 Immortal Chaplains Prize for Humanity from former U.S. Senator Robert Dole)
A middle-class Hutu married to a Tutsi and the father of four children, Rusesabagina's hotel became a refuge for those fleeing the violence. "For three months, the Mille Collines was a sanctuary for the terrified and targeted, as Rusesabagina used his wits, international contacts and even the swimming pool's rationed water to keep the refugees alive," writes Norma Meyer of Copley News Service. When the wave of violence was over, 1268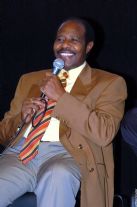 people who were sheltered at the hotel were still alive because of Rusesabagina's compassion and cunning.
"It was worse than what you saw on screen," the 50-year-old Rusesabagina says. "When you see all around the road, both sides, dead bodies and you hear noises of people being killed, and there are people passing with machetes and machine guns... The message of our movie is to say -- look, this happened in Rwanda 10 years ago. The people of the world were not informed. Now today you are informed and again it is happening -- are you not going to take action? Please do take action because it is happening in Sudan. It has been happening in the Congo for the last eight years -- about 3½ million people have been killed. The world does not start and end in America and Europe. It goes beyond." He adds, "The politicians keep saying, 'Never again, never again.' Those two words are the most abused words in the world."
Today, Paul Rusesabagina owns a transportation company. He is still involved in charitable organizations aiding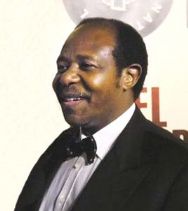 survivors of the Rwandan tragedy and is in the process of setting up a foundation in his name for further assistance. Rusesabagina served as special consultant to United Artists and Lion's Gate Films' production of the hit film, Hotel Rwanda, which also stars Joaquin Phoenix and Nick Nolte.
Rusesabagina will follow this academic year's previous Ubben Lecturers: Ambassador L. Paul Bremer, Peyton Manning, and Senator Richard Lugar, who spoke during the fall semester; and Liz Murray, who will discuss "Homeless to Harvard: A Remarkable Journey," on April 6.
"We typically stage four Ubben Lectures each year, but I learned Paul Rusesabagina was available and decided this is an opportunity that DePauw should not pass up," says Ken Owen '82, director of media relations and coordinator of the Ubben Lecture Series. "Our history department, in particular Professor John Dittmer, expressed a strong desire to bring Mr. Rusesabagina's powe
rful, moving and very timely message to our campus, and I'm thrilled that he's agreed to visit us."
The Ubben Lecture Series has brought distinguished individuals to the DePauw University campus since 1986, including 2004 presidential candidate and retired General Wesley Clark, former British Prime Ministers Margaret Thatcher and John Major (seen in photo meeting with DePauw students), General Colin Powell, Ross Perot, Shimon Peres, Spike Lee, Mike Krzyzewski, Harry Belafonte and ice cream entrepreneurs Ben & Jerry.
To view a complete list of Ubben Lecturers, which includes links to video clips and news stories, click here.
Back