Morgan Simmons '51 Writes in American Organist
February 10, 2005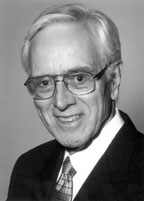 February 10, 2005, Greencastle, Ind. - Morgan Simmons, newly-elected treasurer and councillor for finance & development for the American Guild of Organists and an AGO member since 1948, writes, "This engaging journey began when I was a freshman at DePauw University in Greencastle, Ind., and my love affair with our esteemed organization has deepened over this half century of involvement." In an essay in the January issue of American Organist, Simmons continues, "My first elected position came when I became dean of the DePauw chapter. Following graduation in 1951, I entered Union Theological Seminary's School of Sacred Music."
Simmons has been involved at the AGO's national level for a number of years, he points out, "serving as director of the denominational relations committee and as director of the development committee... Never in all my professional career have I had the opportunity of working with such dedicated, knowledgeable and empathetic men and women."
Visit American Organist online by clicking here.
Back