10th ranked Tigers win seventh straight
February 11, 2005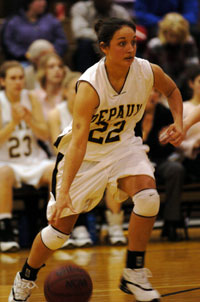 February 11, 2005, Atlanta, Ga. - Amy Argetsinger led five DePauw double-figure scorers with 16 points as DePauw won its seventh straight game with an 84-63 Southern Collegiate Athletic Conference victory at Oglethorpe.
DePauw, ranked 10th in the lastest coaches' poll and 14th by D3hoops.com, improved to 19-3 overall and 10-1 in the SCAC, while the Stormy Petrels dropped to 9-13 overall and 3-8 in the conference.
Sarah Zondor followed with 12, while Gretchen Haehl and Jordan Cuddy each scored 11 and Caitlin McGonigal added 10.
The Tigers never trailed and stretched a 16-16 tie into a 49-32 halftime lead. That margin reached as many as 29 in the second half.
DePauw hit 10 of 19 three-pointers on the evening including seven of 11 in the first half. The Tigers, ranked third in Division III field goal shooting, hit 51.5 percent for the game.
Stefanie Jo Janssen paced Oglethorpe with 25 points, while Megan Elliott added 11.
With her 16 points, Argetsinger raised her career total to 1,360 which ranks third in DePauw history and sixth all-time among SCAC leaders. She needs just six to move into second in DePauw history and 22 to surpass Carla Weaver's record of 1,381 set in 1992.
DePauw travels to Millsaps for a 2 p.m. CST game on Sunday.
Back