James B. Stewart '73 Appears on NBC's Today to Discuss New Bestseller, DisneyWar
February 15, 2005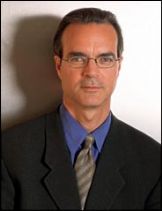 February 15, 2005, Greencastle, Ind. - On this morning's Today show on NBC, Katie Couric said, "What could possibly be wrong at the happiest place on Earth? Just ask Pulitzer Prize winning author James B. Stewart, author of the new book, DisneyWar. Stewart, a 1973 graduate of DePauw University and chair of the Board of Trustees, was a live guest on the morning news program this morning.
"I've done books on Wall Street and Washington politics, and I thought what next is so important in America -- the entertainment industry, Hollywood, and Disney first and foremost, which after all is one of the most beloved and best-known brand names in the world," Stewart told Today.
DisneyWar "is a morality tale just like many of the Disney classics," the author added, "and it remains to be seen whether good triumphs over evil. But, in fact, the happiest place on Earth is not very happy. It's a Machiavellian, ruthless climate where people who, at their greatest points of success, are often fired."
Access video of the entire six minute segment at MSNBC.com by clicking here. Read more about DisneyWar here.
Back