US Navy Secretary-Designate John McNaughton '48 Recalled in Newspaper Article
February 16, 2005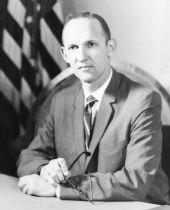 February 16, 2005, Greencastle, Ind. - "Like his hero, Adlai Stevenson, he was a man of genuine compassion: Peace and the dignity of human beings was very near his heart," notes a story in Illinois' Pekin Times on 1948 DePauw University graduate John T. McNaughton. In July 1967, having recently been confirmed by the U.S. Senate as the nation's next Secretary of the Navy, McNaughton and his wife and son were killed in a plane crash. The article recalls McNaughton's spirit and personality, his service in World War II and how he was recruited to serve in government by President John F. Kennedy.
"John worked hard," writes William Toel. "That's how you get to DePauw University, Harvard Law School and Oxford University. That's how you get recognized as a Rhodes Scholar -- and that is what President John F. Kennedy saw... His boss, Secretary of Defense Robert S. McNamara, had let it be known privately that, as his closest advisor, McNaughton could well be his choice to replace him as the next Secretary of Defense."
Access the column at the newspaper's Web site by clicking here.
DePauw honors the memory of John McNaughton with the McNaughton Medal for Public Service, which has been awarded on seven occasions. After the tragic events of 1967,
the friends and family of John and Sally McNaughton, led by then Secretary of Defense Robert McNamara, established a memorial at DePauw in the form of the McNaughton Medal. Recipients include chemist Percy L. Julian (DePauw 1920) in 1972; William D. Ruckelshaus, administrator of the U.S. Environmental Protection Agency in 1984; U.S. Representative and 1952 DePauw graduate Lee H. Hamilton in 1987; Emory University President James T. Laney in 1990; Vice-President of the United States Dan Quayle (DePauw 1969) in 1990; civil rights leader and 1957 DePauw graduate Vernon Jordan in 1993; U.S. Senator Richard Lugar in 2001; and ABC News Chief National Security Correspondent John McWethy (DePauw 1969) in 2003.
Back