James B. Stewart '73 Discusses New Bestseller DisneyWar with Chris Matthews on MSNBC
February 17, 2005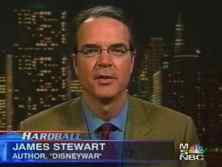 February 17, 2005, Greencastle, Ind. -

[Download Video: "James B. Stewart '73 on Hardball" - 1247kb] "Your book is now apparently already at the top of the bestseller lists after a couple of hours," Hardball host Chris Matthews said as he welcomed DisneyWar author James B. Stewart to his MSNBC program last night. The new book by Stewart, a 1973 graduate of DePauw University and chair of the Board of Trustees, arrived in bookstores last week, three weeks earlier than scheduled, because of demand generated by pre-release publicity.
"I took it at face value that Disney is a great company, it's a great brand, and is stands for this idealistic triumph of morality and of good over evil, and doing the reporting on this book was like a journey in the heart of darkness," Stewart, the Pulitzer Prize-winning former front page editor of the Wall Street Journal, told Matthews. "The reality is so divergent from the image of the brand and the company. Eventually that can become a serious problem."
The author continued,

[Download Video: "Fantasy vs. Reality" - 1039kb] "The Machiavellian reality of the corporate suite is its so at odds with the image of the company that it was startling to me. And, you know, I did get the opportunity -- and I'm grateful to Disney
for this -- I got to appear as a character in Disney World, as Goofy, so I passed that line. I went from the so-called backstage area into the magic, public, onstage area as a character, and I experienced first-hand that sort of startling change from the real world into the so-called Magic Kingdom. It's quite an experience."
Stewart also appeared on PBS' Charlie Rose Show last night. Read more about DisneyWar: The Battle for the Magic Kingdom and order the book at Amazon.com and Barnes & Noble.com. Access previous stories here, here and here.
James B. Stewart, who has also authored Den of Thieves, Blind Eye, Blood Sport and Heart of a Soldier: A Story of Love, Heroism, and September 11th, spoke at his alma mater on April 7, 2003. Access a story that includes video and audio clips from that lecture by clicking here.
Back