DePauw Acquires Walden Inn
February 23, 2005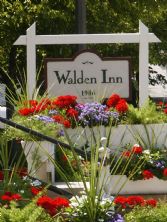 February 23, 2005, Greencastle, Ind. - Walden Inn, the 55-room hotel, restaurant and conference center located on the DePauw University campus, is being acquired by the University. Walden Inn's principal owner, Don R. Daseke of Dallas, Texas, today announced an agreement to transfer ownership of the property to his alma mater. The transaction was unanimously approved by DePauw's Board of Trustees.
"It's been a thrill seeing the Inn open and, over the years, under the dedicated and effective leadership of Innkeeper Randy Rhine, develop into the highly-regarded facility that it is today," says Daseke, a 1961 graduate of DePauw and Trustee of the University since 1984. "After a series of talks with DePauw President Bob Bottoms, it became clear that this transaction would be an outstanding next chapter to the Walden Inn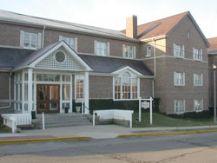 story. My love for DePauw and Walden Inn is well documented. After almost 20 years of opening and overseeing the Inn, I know its future is in very good hands with DePauw. I'm quite confident the Inn will continue to make a strong contribution to the life of both DePauw and Greencastle."
Dr. Bottoms adds, "Walden Inn has become an important part of DePauw -- our alumni, visitors and parents of students stay there, students use the social space -- and it is a keystone of the Putnam County community, hosting weddings, receptions and attracting visitors to Greencastle who spend money at local businesses and return home with stories of the unique things this city has to offer. DePauw is committed to making this fine property an even greater asset to both the campus and the community. We plan to carry on the tradition of excellence that Don Daseke, Matt O'Neill and Randy Rhine have established."
The University will immediately upgrade Walden Inn's guest rooms and conference facilities. Day-to-day operation of the Inn will be managed by Sodexho, the leading food and facilities management services company in North America, which has provided food services on the DePauw campus since 2002 and operates facilities that are very similar to Walden Inn in other college towns around America.
"I've visited other properties that Sodexho manages and I can report that they do a first-class job," says Dick Speller, DePauw's vice president for finance and administration. "I have every confidence that the people who visit the Inn are going to like what they see and experience."
"Sodexho is proud to add this impressive property to its portfolio of conference centers and hotels and appreciates the opportunity to expand its relationship with DePauw University," states Mary Ann Boyle, senior vice president of Sodexho Conferencing. "We look forward to
maximizing the use of this new university asset through establishing excellent relations with the DePauw University and Greencastle communities."
"Other than the renovations, visitors to the Inn shouldn't see any obvious changes," Speller added. "Of course, it is our goal over time to continue to enhance the experiences that Walden Inn offers its guests. This is something that promises to add value to DePauw in every way."
Opened in 1986 and located on the northern end of the DePauw campus and a short distance from Greencastle's courthouse square, Walden Inn "has excellent accommodations and dining," wrote the Courier-Journal of Louisville, Kentucky. Midwest Living magazine noted, "Echoing the back-to-nature writings of Henry David Thoreau, the sprawling Walden Inn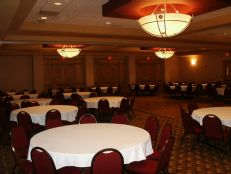 combines warm, simple furnishings with top-notch dining and pampering service. Some rooms have a burgundy-and-hunter-green decor, but all have their own personality."
A 19,000 square foot expansion of the Inn, completed in January 2003, created a new and much larger Fluttering Duck (for casual lunches and dinners, it also hosts live musical performances and is equipped with several televisions for enjoying sporting events), a banquet room with space for 250 people (expandable to accommodate 100 more) and study space for students to work alone or in groups. The space formerly occupied by the Fluttering Duck is now a coffee shop serving Starbucks products.
To learn more about Walden Inn, click here.
Back