Ben Kweller to Perform at DePauw April 16
February 26, 2005
February 26, 2005, Greencastle, Ind. - Ben Kweller -- who has released two solo major label records, collaborated with Ben Folds, and opened for The Strokes, Kings of Leon, My Morning Jacket, and Dave Matthews Band -- will bring his talents to the campus of DePauw University on Saturday, April 16. Kweller will perform on the west lawn of the Memorial Student Union Building (adjacent to Phi Kappa Psi fraternity; rain location is the Lilly Center). Matt Nathanson will open the concert, which begins at 8 p.m. A suggested donation of $5 will be collected and proceeds will be given to a local charitable organization. The show is sponsored by Union Board.
The Denver Post says Kweller is "sweet, indie-minded innocence incarnate, a market [he] has cornered." Interview magazine was more blunt: "Attention! Genius at work."

Now 23 years old, Ben Kweller has been playing guitar and writing songs since the age of eight; when he was nine, he entered Billboard's songwriting contest and earned an honorable mention. After stints with bands Green Eggs & Ham, Mirage, and Foxglove, Kweller's grunge group Radish was signed to Mercury Records where they recorded their first official release album, Restraining Bolt (1997), and toured the world -- all before Kweller''s 16th birthday.
Radish broke up, and Kweller released his first solo CD, Sha Sha in 2002. Entertainment Weekly called the disc, "One of the year's best pure-pop efforts," the Philadelphia Inquirer rated it "...a rare pop pleasure," and Rolling Stone named it one of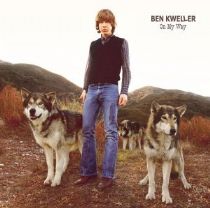 the year's 50 best albums. Kweller's 2004 follow-up, On My Way, was produced by Ethan Johns (Kings of Leon, Ryan Adams). Stylus magazine wrote that the disc confirms that Kweller "is most definitely on his way to becoming a treasured and important songwriter and performer."
Recently, Kweller collaborated with Ben Folds and Ben Lee on a four-song EP, The Bens. "There's some new wave on there, a piano ballad that Folds sings, a countryish song," Kweller told MTV.com. "It's just all three of us writing songs; there's not any one particular sound. It's all three of us singing, big harmonies."
Opening act Matt Nathanson "belongs in the spotlight by virtue of his strong personality and even stronger material," opines the Hollywood Reporter. He recently opened for Tori Amos on her tour, and released his major label debut,

Beneath These Fireworks, in October 2003. Nathanson is no stranger to DePauw, having performed on campus in Fall 2003 and Spring 2004. USA Today says the singer-songwriter is the "kind of folksy, Dave Matthews-style songwriting favored by shows on the WB... highlights of his set are the spirited '80s sing-a-longs."
Visit Ben Kweller's Web site by clicking here, and read more about him at All Music Guide here.
Back