Computer Science Symposium to Highlight Works of DePauw Students & Faculty Members
February 22, 2005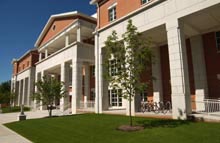 February 22, 2005, Greencastle, Ind. - A DePauw University student and two faculty members will make presentations this week at the 2005 ACM Special Interest Group on Computer Science Education symposium in St. Louis. The ACM- SIGCSE provides a forum for problems common among educators working to develop, implement and/or evaluate computing programs, curricula, and courses, as well as syllabi, laboratories, and other elements of teaching and pedagogy. The symposium takes place February 23-27.
Michael Oren, a DePauw junior, will give a poster presentation as part of the ACM Student Research Competition. Oren's work was carried out in collaboration with Laura Schafer, also a DePauw junior, who is studying abroad this spring and will not be attending the conference. Their project, "Enhancing a Pen-based Groupware System through Image Caching and Gesture Recognition," was funded by a National Science Foundation Research Experiences for Undergraduates grant. Dave Berque, associate professor of computer science, served as faculty sponsor of the project.
Also at the symposium, Dr. Berque and Scott Thede,
assistant professor of computer science at DePauw, will present a three-hour hands-on workshop, "Fostering Classroom Engagement with DyKnow Vision and Tablet PCs or other Pen-based Computing Devices." Read more about Berque's work with such devices in this previous story.
Learn more about the symposium by clicking here.
Back