VP Madeleine Eagon Quoted in Nationally Syndicated Story on Merit-Based Financial Aid
February 23, 2005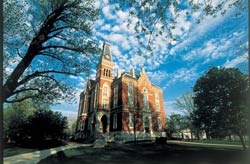 February 23, 2005, Greencastle, Ind. - "Luring exceptional students is the main reason that nine out of 10 colleges and universities say they offer at least some merit-based aid," notes a nationally syndicated Knight-Ridder Newspapers story that was released this afternoon. Frank Greve writes, "DePauw University in Greencastle, Ind., for example, offers talented applicants instant gratification by telling visitors to its Web site how much merit aid they'll get -- up to $15,000 a year -- based on their grade-point averages, class ranks and test scores. It works for DePauw, explained Madeleine Eagon, the school's vice president for admission and financial aid, in part because 'many families now approach choosing a college as a commodity purchase.' They assume schools' offerings are similar in quality but are highly sensitive to price."
Read the complete article at the Web site of California's Monterey County Herald or at Knight-Ridder's Washington bureau.
For five consecutive years, U.S. News & World Report has ranked DePauw University in the top tier of America's national liberal arts
colleges (read more here). The 2005 edition of the Unofficial, Unbiased Guide to the 331 Most Interesting Colleges ranks DePauw #4 in the nation in the percentage of full-time undergraduates receiving merit-based financial aid (45%), and #2 in average amount received per student ($12,134). In its most recent analysis of best values in private colleges across the United States, Kiplinger's Personal Finance rated DePauw #67.
DePauw recently announced that total fees to attend the University in the 2005-06 academic year will increase 3.7%, the lowest percentage hike in five years. Read more here.
Source: Knight-Ridder Newspapers
Back