President Bush's Former Friend Should Turn Over All of His Tapes, Writes Prof. Ken Bode
February 26, 2005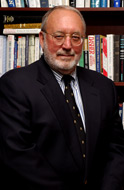 February 26, 2005, Greencastle, Ind. - "Has anyone ever taken such a public whipping for taping telephone conversations with a friend as Doug Wead? Surely not since Linda Tripp taped Monica Lewinsky," writes Ken Bode, Eugene S. Pulliam Distinguished Visiting Professor of Journalism at DePauw University, in today's Indianapolis Star. In his op-ed column, Bode argues that Wead -- whose went public with some of his taped 1998 conversations with George W. Bush -- should now turn over all of his tapes to the news media.
"As he played some of the tapes for the New York Times last week, Wead insisted he had done it for history. He believed George Jr. would be 'an historic figure' and thought there should be a record of this part of his life... The problem is that Doug Wead is now a broken man, exasperated, misunderstood, sorry and pledging to return the tapes to the White House as soon as he can figure out how. That is a big mistake."
Dr. Bode states, "I believe Wead when he says he did it for history. When he was interviewed for a documentary that I reported for CNN in 2000, Living the Bush Legacy, Wead was a wholehearted Bush devotee, already thinking dynasty. 'If he wins this election,' Wead said, 'it's very possible they will be the greatest political family in American history.' Wead also was around for two character-shaping crossroads in our president's life: When he accepted Jesus Christ as his Lord and Savior, and when he quit drinking... So, historically speaking, there might be plenty more on these tapes besides whether George Jr. smoked marijuana during his wild years. Apparently he did. So what?"
In conclusion, the professor notes the importance tapes have played in documenting the presidencies of John F. Kennedy and Richard Nixon. "If you are really interested in history, Doug, it makes no sense to turn the tapes over to the White House. You might as well bury them with Jimmy Hoffa's body. If we are lucky, they will go to the George W. Bush presidential library and never be
heard by anyone alive today. You now say personal relationships are more important than history? Bush is your former friend... Your goose is cooked anyway. Give the tapes to the New York Times and negotiate witness protection."
Read the complete column at College News.org.
Other recent columns by Ken Bode, who will be inducted into the Indiana Journalism Hall of Fame in April (read more here), can be accessed here, here, here, here, here, here, here, here, here, and here.
Source: Indianapolis Star
Back